Revamp Your Oasis with Botanical Bathroom Wallpaper
Dive into the world of botanical bathroom wallpaper, where the beauty of nature meets the comfort of your home. Nothing says tranquility and relaxation like a bathroom oasis adorned with stunning images of vibrant plants, flowers, leaves, and other elements of nature. Botanical wallpaper has become a popular choice for homeowners and interior designers alike due to its versatility and ability to create a serene atmosphere within any space.
Botanical bathroom wallpaper not only adds an aesthetic appeal but also has a calming effect that can transform your bathroom into a relaxing retreat. This wallpaper style features a variety of designs, from lush jungle trees and tropical palms to delicate wildflowers and hardy desert cactus. The color palette of botanical wallpaper goes beyond the typical green, showcasing the beauty of nature in a creative and unique way.
Whether you're aiming for a bold statement or a subtle hint of nature, botanical bathroom wallpaper can bring the outdoors inside, enhancing the ambiance of your bathroom with a touch of life. This type of wallpaper is not just for residential homes, it's also widely used in commercial spaces such as offices and waiting rooms to promote a relaxing atmosphere.
In this article, we will delve into the appeal of botanical wallpaper, how to choose the right one for your bathroom, and why ONDECOR is your go-to source for high-quality botanical bathroom wallpaper. We'll also provide tips on how to install your wallpaper to achieve the best results. So, let's embark on this journey to revamp your oasis with botanical bathroom wallpaper.
The Appeal of Botanical Wallpaper
Step into the tranquility of nature every time you enter your bathroom. With botanical wallpaper, you can do just that. This popular design trend brings the serene beauty of the outdoors into your interior spaces, offering a myriad of benefits.
The Serenity of Nature in Your Bathroom
Imagine the calming effect of a lush rainforest, the vibrant allure of tropical palms, or the subtle charm of wildflowers – all within your bathroom walls. Botanical bathroom wallpaper allows you to create a sanctuary of relaxation and rejuvenation, echoing the serenity of nature. The use of green hues, the symbolic colour of growth and new beginnings, can contribute to a soothing atmosphere. And should you prefer a more dramatic touch, darker shades such as blue or black can lend depth and excitement to your botanical design.
Versatility of Botanical Designs
One of the greatest appeals of botanical wallpaper is its versatility. From small-scale ivy vines for a touch of romanticism to large-scale tropical leaves reflecting their true size in nature, you have an extensive range of designs to choose from. You might opt for a modern abstract design, an art deco botanical pattern, or a vintage botanical aesthetic, depending on your personal style and the overall decor of your bathroom. The choice of colour is equally diverse, with fabulous options in green, gold, blue, black, and grey.
Botanical Wallpaper in Commercial Spaces
Botanical wallpaper is not just for private bathrooms – it's also a fabulous choice for commercial and public spaces. Imagine a spa or wellness centre with walls adorned with peaceful botanical designs, creating a soothing ambiance that promotes relaxation and well-being. Or a chic boutique hotel bathroom enhanced with a bold, tropical wallpaper design, offering guests a unique and memorable experience. With botanical wallpaper, the possibilities are as limitless as nature itself.
In the next section, we'll delve into how to choose the right botanical wallpaper for your bathroom and explore some popular designs. Your journey towards a revamp of your oasis with botanical bathroom wallpaper continues.
Choosing the Right Botanical Wallpaper for Your Bathroom
Revamping your oasis with botanical bathroom wallpaper is an exciting journey, but it involves several crucial considerations. Understanding these aspects will ensure you choose a wallpaper design that resonates with your style and enhances your space.
Considerations for Selecting Botanical Wallpaper
Color Scheme: Consider the existing color scheme in your bathroom. For instance, if your bathroom has a light color scheme, a botanical wallpaper with darker shades can add depth and contrast. Colors like gold, blue, black, and grey are fabulously versatile, while green is a natural choice for botanical designs.
Scale of Pattern: The size of the pattern also matters. Smaller patterns with romantic ivy vines or colorful wildflower meadows can add a quaint charm, while large-scale motifs of tropical leaves can bring the lush green abundance of nature into your bathroom.
Room Size: If your bathroom is small, consider a wallpaper design with smaller motifs or a light color scheme to make the room feel more spacious. For larger bathrooms, you can opt for larger, more intricate designs or darker colors.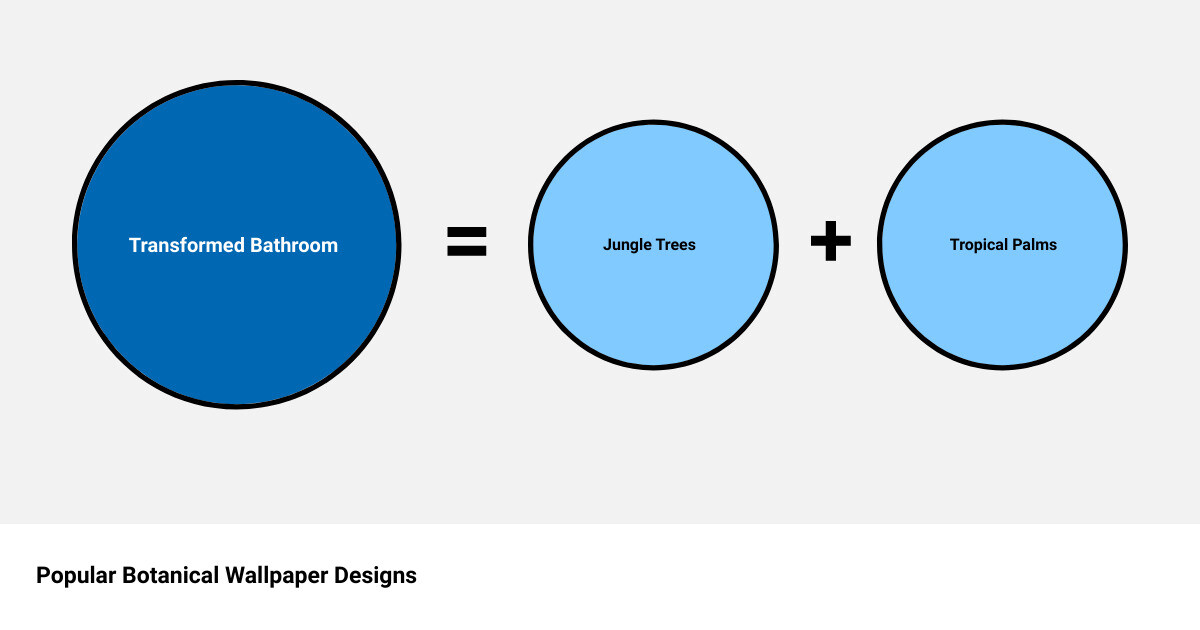 Popular Botanical Wallpaper Designs
Now that you have some general guidelines, let's explore four popular botanical wallpaper designs that can transform your bathroom into a tranquil oasis.
Jungle tree wallpapers depict the dense greenery of the rainforest, complete with iridescent orchids, birds of paradise, and other elements of the jungle's unique fauna and flora. This design can transform your bathroom into a secluded, lush sanctuary.
Tropical Palms
Tropical palms wallpapers feature a variety of palm fronds in symmetrical or freely associated arrangements, which add a beautiful exoticism to the room. Whether in shades of green or gold, these wallpapers can bring a touch of the tropics to your bathroom.
Wildflowers
Wildflower wallpapers are perfect for adding a touch of romantic charm to your bathroom. These wallpapers feature small-scale representations of various wildflowers, often set against a light background, creating a fresh, dynamic aesthetic.
Desert Cactus
Desert cactus wallpapers depict the fascinating flora of the desert, from various species of cacti to the Rose of Jericho and the Joshua tree. These designs can add an intriguing edge to your bathroom, highlighting the beauty of survival in harsh conditions.
Remember, the best botanical bathroom wallpaper is one that fits your style and complements your space. And with such a wide range of designs available, you're sure to find the perfect fit for your oasis.
How to Install Botanical Bathroom Wallpaper
Revamping your bathroom with botanical wallpaper isn't just a style upgrade, it's a transformative DIY project that you can take pride in. Whether you choose the convenience of peel-and-stick botanical wallpaper or opt for the more traditional route, ONDECOR LLC ensures you have all the information you need to make the process smooth and hassle-free.
Peel and Stick Botanical Wallpaper
The appeal of peel-and-stick botanical wallpapers is in their simplicity. These wallpapers come with a self-adhesive backing, making them a perfect choice for quick and easy installation – no messy glue or professional assistance required. To install, simply peel off the backing and stick the wallpaper onto your clean and smooth bathroom wall. You can easily adjust and reposition the wallpaper to achieve a perfect finish.
Peel and stick wallpapers are an excellent choice for those who love switching up their interior decor frequently. Their easy removal process leaves no residue, ensuring your walls remain pristine even after multiple decor changes.
Traditional Botanical Wallpaper
If you're opting for traditional botanical wallpaper, remember that it requires a bit more effort but offers a permanent and professional finish. This type of wallpaper doesn't come with a self-adhesive backing and hence, requires wallpaper paste for installation.
To start, you'll need to prepare the wallpaper paste and apply it evenly to the back of your botanical wallpaper. Once the paste is applied, carefully position the paper on the wall, smoothing out any bubbles or wrinkles for a flawless finish.
While installing traditional wallpaper may require a bit more time and precision, the result is a durable and long-lasting wall decor that can stand the test of time.
Whether you choose peel-and-stick or traditional botanical wallpapers, remember to take your time, measure accurately, and align your patterns for the best results. It's your space, and with a little patience and creativity, you can transform it into a stunning oasis that reflects your love for nature's beauty.
ONDECOR: Your Go-To for Botanical Bathroom Wallpaper
Now that you've discovered the appeal and versatility of botanical wallpaper, it's time to find the perfect match for your bathroom. Look no further than ONDECOR, a trusted provider of high-quality wallpapers that bring the beauty of nature into your home.
High-Quality, Eco-Friendly Wallpapers
At ONDECOR, we understand the importance of preserving our planet. That's why we're committed to offering eco-friendly and non-toxic wallpapers that are safe for your home and the environment. Our wallpapers are proudly made in the USA, adhering to strict manufacturing standards and supporting local businesses. So, when you choose ONDECOR, you're not only beautifying your home but also contributing to a sustainable economy.
Wide Range of Botanical Designs
Our collection of botanical wallpapers is extensive, offering a variety of designs to suit every taste and aesthetic. Whether you're drawn to the lush greenery of jungle trees, the exotic allure of tropical palms, the delicate charm of wildflowers, or the rugged beauty of a desert cactus, we've got you covered. Our botanical designs extend beyond green, showcasing the beauty of nature in a creative manner. Both bold and understated styles are available to take your bathroom from ordinary to extraordinary.
Serving Customers Worldwide
ONDECOR is a globally recognized brand, trusted by over 48,000 customers worldwide. We have completed more than 153,530 projects and sold over 300,000 wallpapers. But numbers only tell part of the story. Our true success lies in the satisfaction of our customers and the transformation of their spaces with our wallpapers. That's why we provide fast and secure shipping, ensuring your new botanical bathroom wallpaper arrives in pristine condition and ready for installation.
Embrace the serenity of nature in your bathroom with ONDECOR's botanical wallpapers. Our commitment to quality, eco-friendliness, and customer satisfaction makes us the go-to choice for homeowners seeking to revamp their oasis. So, why wait? Start your bathroom transformation with ONDECOR today.
Conclusion: Transform Your Bathroom with Botanical Wallpaper
Transforming your bathroom into a personal sanctuary has never been easier with ONDECOR's botanical bathroom wallpaper. With a wide array of designs and styles, you can create a serene and nature-inspired ambiance right in your home. Whether you prefer the lush vibrancy of jungle trees, the tropical charm of palms, the delicate allure of wildflowers, or the desert mystique of cactuses, our collection caters to every taste.
Choosing ONDECOR means choosing convenience and quality. Our wallpapers are easy to install with options of peel-and-stick or traditional wallpaper. Our products are eco-friendly, ensuring that while you beautify your space, you're also doing your part in preserving the environment.
High-quality and eco-friendly wallpapers aren't the only things ONDECOR brings to the table. We believe in serving our customers with the utmost dedication. Our worldwide shipping ensures that wherever you are, you can turn your bathroom into a nature-inspired retreat.
In conclusion, botanical bathroom wallpaper is a simple yet effective way to bring the outdoors inside. It can transform a functional room into a tranquil space where you can unwind and relax. With ONDECOR, you'll not only get a product that elevates your bathroom's aesthetics but also a customer experience that is as seamless and enjoyable as possible.
Your dream bathroom oasis is just a click away. Start your transformation with ONDECOR today!