Jungle Stick On Wallpaper: Unleash your Wild Side!
Introduction
Brief Introduction to Jungle Stick On Wallpaper
Do you want to bring the exotic allure of the jungle into your home? Look no further than the jungle stick on wallpaper. Offering a vivid representation of lush tropical greenery, this wallpaper type is a powerful tool to evoke the allure of the wild in your living spaces. Jungle stick on wallpaper is a unique decor solution from ONDECOR that provides a stylish, convenient, and affordable way to transform your interiors.
Why Jungle Stick On Wallpaper is Trending
The world of interior design is constantly evolving, and currently, the jungle stick on wallpaper is stealing the show. This surge in popularity is due to several factors. First, with the increasing desire for home improvements during the pandemic, homeowners have sought out bold and eye-catching designs to refresh their living spaces.
Secondly, the tropical style in interior design has been gaining traction, with designers and homeowners alike drawn to its vibrant energy and connection to nature. The jungle stick on wallpaper perfectly encapsulates this trend, offering an easy way to incorporate tropical aesthetics into your home.
Lastly, the simplicity and convenience of peel and stick wallpapers have contributed to their rising popularity. They offer an easy installation process and can be removed without damaging the walls, making them an ideal choice for both temporary and permanent decor solutions. With the jungle stick on wallpaper, you get to enjoy all these benefits while immersing yourself in the serene beauty of the jungle.
Stay tuned as we delve deeper into the appeal of jungle stick on wallpapers and why they're an excellent choice for your next home decor project.
The Appeal of Jungle Stick On Wallpaper
Unleash the wild side of your home decor with jungle stick on wallpaper. This versatile wall covering not only adds a touch of nature to your space but also introduces a vibrant, exotic vibe that can transform any room into a tropical paradise.
Transforming Your Space into a Tropical Paradise
Imagine sipping your morning coffee surrounded by the lush greenery of the jungle, or reading your favorite book under the shade of towering palm trees. With jungle stick on wallpaper, these daydreams can become your reality. The vivid colors, intricate patterns, and lifelike depictions of jungle flora and fauna can instantly transport you to a world far removed from the hustle and bustle of everyday life.
Whether you're a nature enthusiast wanting to showcase your passion, or a busy homeowner looking for a quick and easy way to refresh your space, jungle stick on wallpaper offers an exciting way to bring the wilderness into your home. From the playful charm of jungle animal wallpaper to the serene beauty of green jungle wallpaper, there's a design to suit every taste and style.
The Popularity of the Tropical Style in Interior Design
The tropical style has become a major trend in interior design. It's all about creating a space that's relaxed, vibrant, and full of life – a perfect reflection of the jungle's energy and vitality. Jungle stick on wallpaper plays a pivotal role in this trend, offering a bold and beautiful way to infuse your space with a touch of the exotic.
Moreover, this style's popularity stems from its versatility. Jungle stick on wallpaper can be easily incorporated into various design aesthetics, from modern minimalist to boho-chic. It's also a great way to introduce a pop of color into a monochrome space, or add a sense of depth and texture to a flat wall.
In essence, jungle stick on wallpaper is more than just a wall covering – it's a tool to express your creativity, personality, and love for nature. So why not explore ONDECOR's collection of high-quality, eco-friendly jungle stick on wallpapers and transform your space into your very own tropical paradise?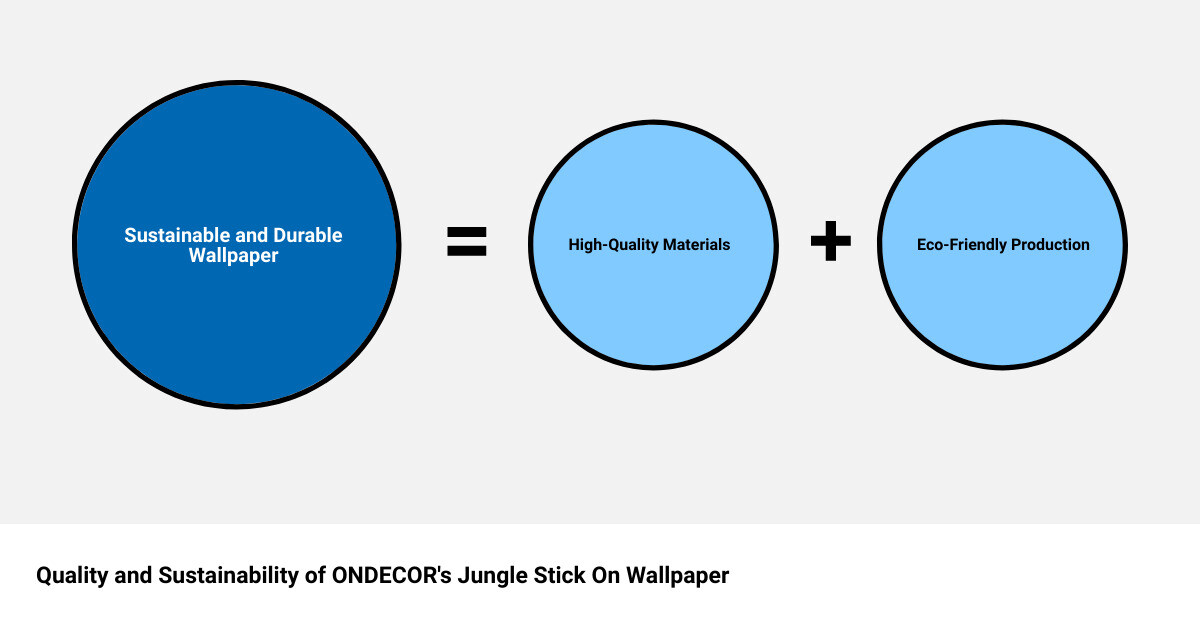 The Quality and Sustainability of ONDECOR's Jungle Stick On Wallpaper
Dive into the lush visuals of the jungle while also embracing sustainability and quality with ONDECOR's collection of Jungle Stick On Wallpaper.
High-Quality, Eco-Friendly Materials
ONDECOR is committed to both the environment and to the quality of your home decor. Each piece of Jungle Stick On Wallpaper is crafted with eco-friendly materials, ensuring that your design choice is not only visually appealing but also kind to the planet. The rich, vibrant colors of the jungle are captured with high-quality printing techniques, ensuring that your wallpaper will remain stunning for years to come.
The American-Made Quality of ONDECOR's wallpapers, including the Jungle Stick On Wallpaper, is a testament to the company's dedication to providing products that adhere to strict manufacturing standards. By choosing ONDECOR, you're not just enhancing your space with stunning visuals, you're also supporting local businesses and contributing to a sustainable economy.
Non-Toxic Wallpapers Safe for Homes and Environment
Safety is a top priority at ONDECOR. The Jungle Stick On Wallpaper is non-toxic, making it safe for both your home and the environment. This means you can enjoy the stunning visuals of your new wallpaper without any worries about harmful substances.
In addition to being non-toxic, the Jungle Stick On Wallpaper is easy to apply and remove. This means you can transform your space into a tropical paradise without the need for professional installation or the fear of damaging your walls.
Choosing the Jungle Stick On Wallpaper from ONDECOR is not just a design decision, it's a commitment to quality, sustainability, and safety. So why not unleash your wild side and bring the beauty and vibrancy of the jungle into your home?
How to Apply and Remove Jungle Stick On Wallpaper
Transforming your space with Jungle Stick On Wallpaper is a breeze with the right techniques. However, like all wallpaper installations, it requires some preparation and patience to ensure longevity and prevent damage to your walls.
Proper Application Techniques for Longevity
To maximize the lifespan of your Jungle Stick On Wallpaper, it's crucial to apply it correctly. As a rule of thumb, always start with a clean, smooth, and dry wall. Remember that heavily textured or flaky plaster walls might not be the best fit for peel and stick wallpapers.
First, measure your wall accurately, then cut the Jungle Stick On Wallpaper to size, adding a few extra inches to account for any errors. When ready, peel off the backing from the top of the wallpaper, align it with the top of your wall, and gently press it down. Work your way down the wall, smoothening the wallpaper as you go along to avoid any bubbles or air pockets.
While this process may seem straightforward, take your time. If applied correctly, your Jungle Stick On Wallpaper can last for five years or even longer. However, repeated removal and reapplication can significantly reduce its lifespan.
Easy Removal Without Damaging Walls
One of the major advantages of Jungle Stick On Wallpaper is its easy removal process. Unlike traditional wallpapers that require wet paste for application and often damage the wall when removed, peel and stick wallpapers typically come off without leaving a mark.
To remove your Jungle Stick On Wallpaper, simply start at one corner and peel it off slowly at a 180-degree angle. This technique minimizes the risk of tearing the paper or leaving any residue behind. In case of any remaining adhesive, a damp cloth or sponge should do the trick.
Remember, the key to a successful wallpaper application and removal is patience. Don't rush the process, and don't hesitate to seek professional help if needed. By choosing Jungle Stick On Wallpaper from ONDECOR, you're not just opting for a trendy, high-quality product, but also an easily installable and removable solution that respects the integrity of your walls.
Choosing the right wallpaper for your space often involves balancing aesthetic preferences with practical considerations. Jungle stick on wallpaper, with its vibrant patterns and ease of application, is a popular choice. However, potential buyers often have several questions about its compatibility with different wall types, its longevity, and the impact it has on the wall surfaces. Let's address these concerns one by one.
While peel and stick wallpapers like the Jungle Stick On Wallpaper from ONDECOR are a versatile choice, there are limitations to the types of surfaces they can adhere to. They are ideally suited to smooth, flat surfaces. For walls with heavy texture or flaky plaster, this type of wallpaper might not be the best choice. The adhesive may not stick properly, leading to bubbles or peeling. Hence, it's essential to assess your walls before choosing this type of wallpaper.
How Long Does Jungle Stick On Wallpaper Last?
The longevity of your Jungle Stick On Wallpaper depends largely on proper application. With careful application, these wallpapers can last five years or longer. However, if applied incorrectly or frequently removed and reapplied, the wallpaper's lifespan could be significantly shortened. It's always beneficial to follow the installation guides provided by ONDECOR or even opt for professional installation to ensure longevity.
Is Jungle Stick On Wallpaper Damaging to Walls?
A major advantage of peel and stick wallpapers over traditional wallpapers is their non-destructive nature. Traditional wallpapers require wet paste for application, which can damage your wall when removed. On the other hand, Jungle Stick On Wallpaper from ONDECOR is designed to come off without leaving much of a mark or residue. This makes it a safe and convenient choice for those who enjoy changing their décor frequently or are renting their living space.
In conclusion, Jungle Stick On Wallpaper is a fantastic option for those looking to bring a touch of the wild into their homes. It is easy to apply, long-lasting, and safe for your walls. However, like any home décor choice, it's important to consider the specifics of your space before installation. With proper care and application, you can enjoy the lush, tropical vibes of your wallpaper for years to come.
Nothing speaks more about the quality of a product than the experiences of those who have used it. ONDECOR's Jungle Stick On Wallpaper has been a hit among homeowners, and customer reviews reflect this.
Positive Reviews and Transformative Effects on Spaces
A common thread among the reviews is how the Jungle Stick On Wallpaper has transformed spaces. One customer, Michelle, gave a glowing review, stating, "OMG! This item is absolutely incredible! It looks so gorgeous on the wall in our nursery and myself and my husband couldn't be happier." Other customers echoed similar sentiments, with reviews praising the wallpaper's stunning visual impact and transformative effect on rooms.
Many customers also commend the wallpaper's quality. Another review from a satisfied customer, mvartanian9668, praised not only the wallpaper's beautiful design but its quality, saying, "Customer service is stellar as is the quality of the paper."
Customization Options and Worldwide Shipping
ONDECOR goes above and beyond to meet the individual needs of its customers. Their design team is ready to help adapt the wallpaper to your specific spatial, color, and pattern scale needs. From adjusting the size and color to assisting with order details based on the area to be wallpapered, ONDECOR ensures every customer gets exactly what they want.
In addition to this, ONDECOR offers worldwide shipping, allowing customers across the globe to enjoy their high-quality wallpapers. Customers have been highly appreciative of this, as it allows them to access these unique and beautiful wallpapers no matter where they are.
These positive reviews and experiences show that ONDECOR's Jungle Stick On Wallpaper is not just a product, but a transformative tool that brings a touch of the wild into the comfort of your home. Whether you're in the United States or somewhere else in the world, you can trust ONDECOR to deliver quality, beauty, and a touch of the jungle right to your doorstep.
Conclusion
Final Thoughts on Unleashing Your Wild Side with Jungle Stick On Wallpaper
As we've journeyed through the lush and vibrant world of jungle stick on wallpaper, it's clear that it's more than just a decor element. It's a ticket to an exotic adventure right in your living space. From the rich greenery of the jungle to the vibrant colors of tropical fauna, this wallpaper serves as a constant reminder of nature's unadulterated beauty.
Choosing jungle stick on wallpaper allows you to break free from traditional designs and unleash your wild side. It provides an opportunity to create a unique aesthetic that resonates with your adventurous spirit. Whether it's a bold tiger print or a serene leaf pattern, the jungle wallpaper gives your space a lively and dynamic ambiance.
Moreover, with ONDECOR's commitment to quality and sustainability, you not only get a visually appealing decor element but also contribute to environmental preservation. Their eco-friendly and non-toxic wallpapers provide a safe and healthy environment for you and your loved ones.
Encouragement to Explore ONDECOR's Jungle Stick On Wallpaper Collection
As we wrap up our exploration of jungle stick on wallpaper, we invite you to continue the adventure by exploring ONDECOR's extensive collection of jungle wallpapers. With a plethora of designs, colors, and themes, you'll surely find a wallpaper that perfectly captures your wild side.
Remember, these wallpapers are not just about transforming your space; they're about creating a living area that reflects your unique personality and taste. So why settle for ordinary when you can bring a piece of the jungle into your home?
With the convenience of online shopping and worldwide shipping, your dream of a jungle-themed space is just a few clicks away. So delve into the world of jungle stick on wallpaper and let your walls tell a vibrant story of your love for the wild. Embrace the jungle, and let your wild side shine with ONDECOR's jungle stick on wallpaper!