Unveiling Coastal Charm with Peel and Stick Wallpaper
Immerse yourself in the world of home décor as we introduce you to a game-changer in the interior design industry: peel and stick wallpaper. A go-to solution for busy homeowners, this revolutionary product promises to add a touch of style and individuality to your space, without the traditional hassles of wallpaper installation.
Peel and stick wallpaper is a self-adhesive, removable wallpaper that has become a favorite among homeowners and interior decorators alike. It offers the perfect balance between style and convenience, with a wide range of designs available from modern, floral, to the soothing coastal themes.
When it comes to home renovation, we know your time is precious. Peel and stick wallpaper caters to the needs of today's fast-paced lifestyle, allowing you to transform your living spaces quickly and effectively. It's a hassle-free solution that doesn't require any paste or water, making it a cleaner and more efficient option than traditional wallpaper.
If you're someone who loves to experiment with different styles, or if you're simply a renter cautious about damaging walls, peel and stick wallpaper is your best bet. Its removable feature enables you to change designs as often as you want without leaving any residue or causing damage to the surface underneath.
Stay with us as we delve deeper into the charm of coastal-themed peel and stick wallpaper, a design trend that brings the serene and calming vibes of the seashore right into your home. With ONDECOR, you'll discover a wealth of coastal designs that can help you create a refreshing, relaxing space you'll love to live in.
Now, let's sail into the world of peel and stick wallpaper coastal and explore how you can bring the beauty of the beach to your interior décor.
Understanding the Appeal of Coastal Themed Wallpaper
The ocean's calming waves, the soothing hues of blue, and the charm of coastal life have a certain magic that attracts many of us. This is where coastal-themed wallpaper makes a splash, allowing you to bring the tranquility and beauty of the seaside right into your home.
One of the main appeals of coastal-themed wallpaper is its ability to create a serene backdrop that complements a wide range of interior styles. From minimalist designs that encapsulate coastal simplicity to vibrant beach-inspired patterns, these wallpapers can infuse your space with a touch of elegance and tranquility. Whether you opt for soft watercolor effects, contemporary abstract interpretations, or whimsical marine life illustrations, you'll find that coastal-themed wallpaper brings a refreshing touch to any room.
Moreover, the color palettes involved in coastal-themed wallpapers are nothing short of breathtaking. They feature various shades of blue, mirroring the serene aqua tones of the sea to its deeper navy hues, all designed to evoke a sense of peace and serenity. Some wallpapers even offer a touch of mystery and drama with their dark ocean themes, showcasing the enigmatic aspects of the sea with dark and moody color palettes. And let's not forget the breathtaking beauty of coastal sunsets, captured in wallpapers featuring stunning horizon views, warm hues, and reflections on the water's surface.
More than just their aesthetic appeal, coastal-themed wallpapers also offer a sense of escape, allowing you to transform your space into a tranquil beach retreat regardless of your location. They can create a soothing ambiance perfect for bedrooms, relaxation areas, or any space where a calming influence is desired.
For a more dramatic effect, ocean mural wallpapers are designed to create a panoramic ocean view, transforming an entire wall into a breathtaking seascape. These oversized wallpapers allow you to immerse yourself in the ocean's vastness and grandeur, evoking a sense of awe and wonder.
In essence, the appeal of coastal-themed wallpaper lies in its ability to bring the beach to you, offering a refreshing and tranquil touch that adds charm and character to your space. Whether you're a lover of the ocean, a fan of coastal aesthetics, or simply looking for a soothing décor option, coastal-themed wallpaper could be your ticket to creating the tranquil home sanctuary you've been dreaming of. Stay tuned as we explore the benefits of using peel and stick wallpaper in the next section.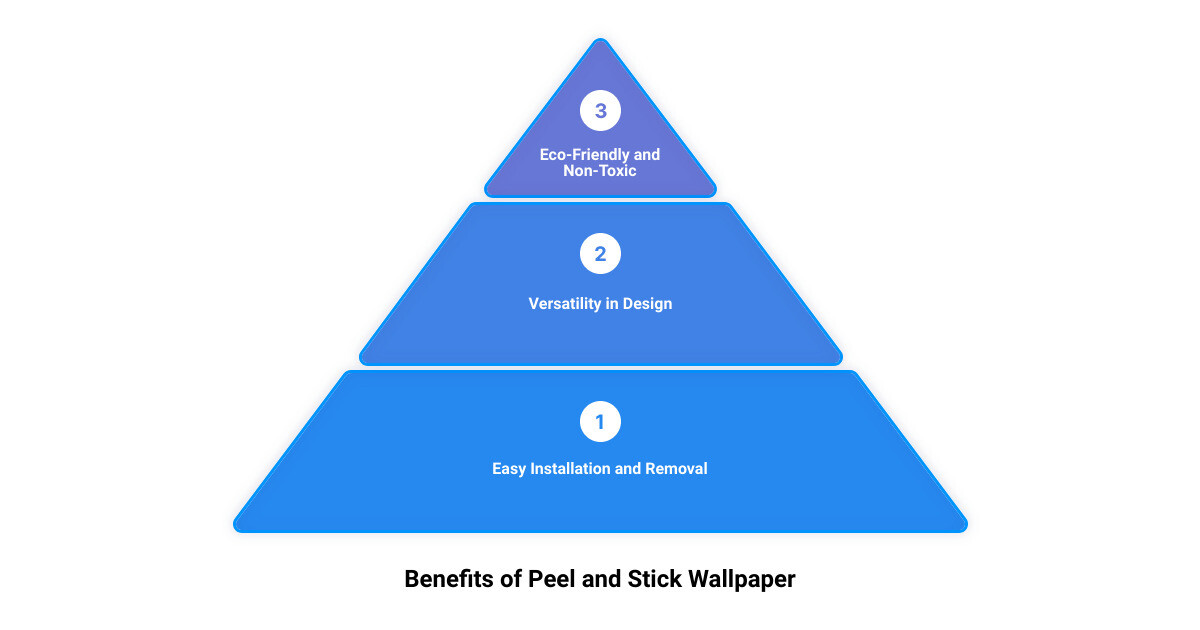 The Benefits of Using Peel and Stick Wallpaper
Transforming your home into a coastal haven has never been easier, thanks to the advent of peel and stick wallpaper. As the name suggests, this type of wallpaper brings a trove of benefits that traditional wallpapers can't match. Let's dive in and explore these benefits that make redecorating a breeze.
Easy Installation and Removal
One of the most significant advantages of peel and stick wallpaper is its easy application and removal process. With traditional wallpaper, you may need to hire a professional installer, but with peel and stick, it's a simple DIY project. Just peel off the backing, position the wallpaper on your wall, and press it into place. If you make a mistake, just peel it off and reposition it. No mess, no fuss, and no need for extra tools or glue.
Even better, when it's time for a change, peel and stick wallpaper can be removed without damaging your walls or leaving any sticky residue behind. This makes it an ideal option for renters who want to personalize their space without risking their security deposit or homeowners who enjoy frequently changing their décor.
Versatility in Design and Application
Peel and stick wallpaper doesn't just excel in the installation department; it also shines when it comes to versatility. With a variety of designs available, from nautical themes to beach-inspired patterns and modern coastal designs, there's a style to suit every taste. Whether you're looking to add a coastal charm to your living room, bedroom, or even bathroom, there's a peel and stick wallpaper that can help you achieve your desired look.
Not only can you apply peel and stick wallpaper on walls, but it's also perfect for transforming furniture, DIY crafts, and other accessories. This versatility makes it a fantastic tool for achieving a cohesive coastal theme throughout your home.
Eco-Friendly and Non-Toxic
In our quest to create stylish living spaces, we mustn't forget the importance of choosing environmentally friendly and non-toxic products. Fortunately, peel and stick wallpapers tick both of these boxes.
They're typically made from vinyl, a material that can be recycled and engineered to be safe for home use. Additionally, they don't require any additional adhesive that could potentially release harmful chemicals into your home. This makes peel and stick wallpaper a safe choice for households, especially those with children or pets.
In a nutshell, peel and stick wallpaper offers a win-win solution for those seeking a simple, budget-friendly way to infuse coastal charm into their homes. In the next section, we'll address some common concerns about peel and stick wallpaper to help you make an informed decision.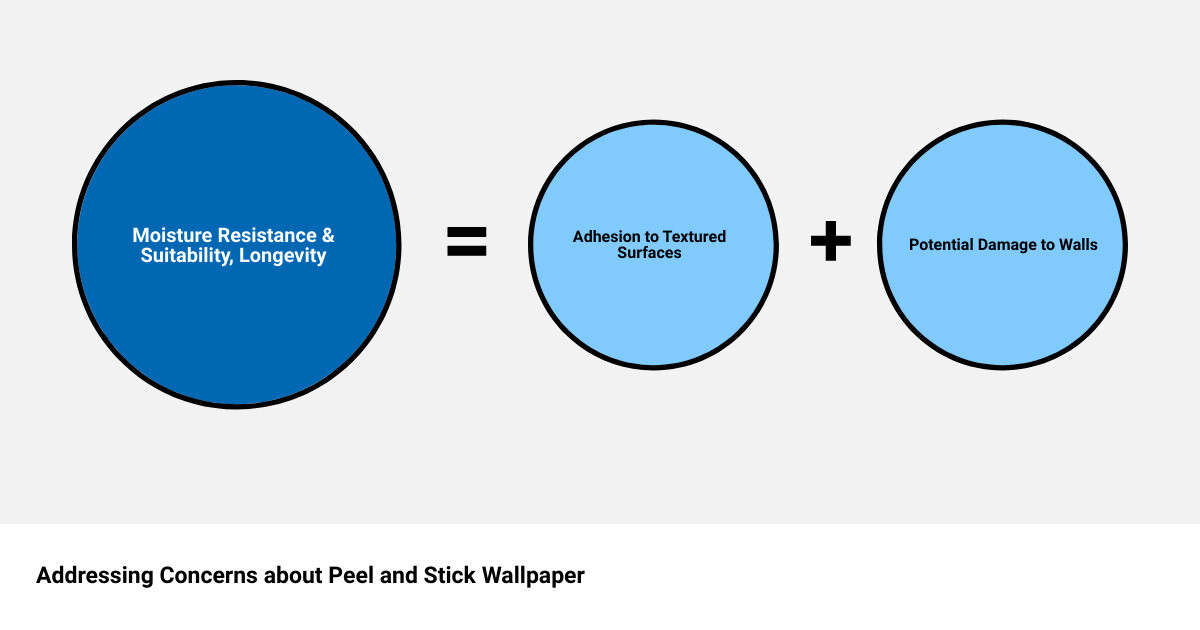 Addressing Common Concerns about Peel and Stick Wallpaper
Whether you're an experienced DIY-er or a rookie, it's natural to have questions or concerns about a new product. When it comes to peel and stick wallpaper, we've gathered the most frequently asked questions and provided straightforward answers to ensure you have all the facts at your fingertips.
Adhesion to Textured Surfaces
A common question raised by homeowners is how well peel and stick wallpaper adheres to textured surfaces. The truth of the matter is, peel and stick wallpapers generally require a smooth wall for the adhesive to properly bond. If your walls have a textured finish, you may need to consider other options or prepare the surface for wallpaper application.
Potential Damage to Walls
Another valid concern is the potential damage to walls when removing the peel and stick wallpaper. There's good news though - when applied to a surface with a sheen, the adhesive will not absorb into the paint, meaning the product will not damage the surface upon removal. So, you can rest easy knowing that your walls will remain untouched and in their original condition.
Moisture Resistance and Suitability for Bathrooms
Wondering if peel and stick wallpaper can withstand a little water? Indeed, it can! Peel and stick wallpaper is moisture-resistant, making it a fantastic option for bathrooms. It won't be damaged by humidity or water, so you're free to introduce that coastal charm into your bathroom without any worries.
Longevity Compared to Pre-Pasted Wallpaper
Longevity is a key consideration when choosing any home décor product. In terms of peel and stick wallpaper, it can last a good number of years but may degrade over time depending on the condition of the wall, sun exposure, and temperature changes. On the other hand, traditional pre-pasted paper can endure for a longer period and any lifting corners can be easily repaired by adding wallpaper glue.
That being said, the convenience and versatility of peel and stick wallpaper often outweigh this minor drawback. You can frequently update your home's look without the fuss of conventional wallpaper, allowing you to switch up your coastal theme as often as you like.
To sum it up, peel and stick wallpaper offers a practical, stylish, and damage-free solution for bringing the coastal charm into your home. In the next section, we will showcase some top coastal designs in peel and stick wallpaper from ONDECOR to inspire your next home transformation.
Showcasing Top Coastal Designs in Peel and Stick Wallpaper from ONDECOR
ONDECOR prides itself in offering an array of high-quality, easy-to-apply coastal peel and stick wallpaper designs that can effortlessly transform your living spaces into a beach retreat. Each design captures the essence of the seaside, making every room feel like a coastal haven. Let's take a closer look at the top designs that have been winning the hearts of homeowners.
Nautical Themes
For those looking to infuse the spirit of maritime adventure into their spaces, our Nautical Peel and Stick Wallpaper collection is a perfect choice. These designs feature elements like anchors, ships, and marine life, turning any room into an oceanic masterpiece. They are an ideal solution for renters or anyone looking to make frequent design changes, promising a sea voyage right from the comfort of your home.
Our Beach-Inspired Patterns transport you to the sun-kissed shores with their vibrant and lifelike designs. Bringing in the tranquil vibes of sandy beaches and azure waters, these wallpapers are perfect for creating a calming and relaxing space. Whether it's a palm tree silhouette against a sunset backdrop or a playful seashell design, these patterns can instantly uplift your mood and create a vacation-like feel in your home.
Modern Coastal Designs
For those who prefer a more contemporary take on the coastal theme, our Modern Coastal Designs strike the perfect balance. These wallpapers blend the traditional elements of the coastal style with modern aesthetics, creating a unique and appealing look. These designs work well in various spaces – from bedrooms and living rooms to home offices, providing a fresh, stylish, and timeless appeal.
Blue and White Coastal Themes
Lastly, our Blue and White Coastal Themes are quintessential to any coastal style decor. Ranging from deep navy to soft azure, these designs invoke the serene vastness of the seas. Whether it's a simple striped pattern or intricate marine motifs, these wall-coverings are versatile, fitting a variety of spaces while maintaining the calming effect that the color blue offers.
With ONDECOR's extensive range of coastal peel and stick wallpapers, you can easily turn your home into a beach-inspired paradise. Choose from our collection and experience the thrill of transforming your space into a coastal haven.
How to Choose and Install Your Coastal Peel and Stick Wallpaper
Choosing and installing your coastal peel and stick wallpaper might seem like a daunting task, but with the right guidance, you can easily transform your space into a coastal paradise.
Selecting the Right Design for Your Space
When selecting the right design for your space, it's important to consider your existing décor and the overall vibe you want to create. If you want a classic coastal look, consider wallpapers with nautical themes or beach-inspired patterns. For a more modern twist, you might want to choose designs that feature abstract interpretations of sea life or the ocean. Blue and white coastal themes are also a great choice if you want to create a calm, serene atmosphere.
You should also consider the size of the space you're decorating. Large, bold patterns might overwhelm a small room, while delicate designs might get lost in a vast space. Fortunately, companies like ONDECOR offer a range of sizes and scale patterns to suit any wall or project.
Tips for Successful Installation
Once you've chosen your wallpaper, it's time to install it. Here are some tips to ensure a successful installation:
Prepare Your Walls: Before you start, make sure your walls are clean, smooth, and dry. Peel and stick wallpapers generally don't adhere well to textured surfaces. If your walls are textured, you may need to smooth them out first.

Measure Carefully: Measure your walls accurately and ensure you have enough wallpaper to cover the entire area. ONDECOR provides a handy wallpaper calculator to help you determine the amount you need.

Follow the Instructions: Each order from ONDECOR comes with installation instructions. Follow them carefully to ensure your wallpaper adheres properly and looks great.

Start from the Top: Start applying the wallpaper from the top of your wall and work your way down. This helps prevent air bubbles and ensures a smooth application.

Smooth Out Bubbles: Use a smoothing tool or a credit card to smooth out any bubbles as you apply the wallpaper.

Take Your Time: Don't rush the installation process. Taking your time will result in a smoother application and a better-looking end result.
Remember, one of the greatest benefits of peel and stick wallpaper is its ease of installation and removal. If you make a mistake, you can easily peel the wallpaper off and reapply it. With a little patience and effort, you can transform your space into a coastal retreat with your chosen peel and stick wallpaper.
Conclusion: Transform Your Space with Coastal Peel and Stick Wallpaper
Bringing the tranquility of the coast to your living space has never been so effortless. Peel and stick wallpaper, especially those with coastal themes, offer a unique opportunity to infuse your home with the serene, refreshing aura of the beach. Whether you wish to add a dash of nautical charm or a splash of ocean blue to your walls, the possibilities are endless.
The ease of installation and removal is a game-changer, making it an ideal choice for renters and homeowners alike. Its versatility in design and application allows you to experiment with various themes, styles, and patterns, transforming your space into a coastal haven without the need for professional help or the mess of traditional wallpaper.
Moreover, the eco-friendly and non-toxic nature of peel and stick wallpaper from ONDECOR ensures that you can style your home without compromising on safety or sustainability. From bathroom walls to kitchen backsplashes, the moisture-resistant and durable nature of these wallpapers make them a practical choice for any room.
Addressing common concerns, peel and stick wallpaper's superior adhesion to textured surfaces, minimal potential damage to walls, and longevity compared to pre-pasted wallpaper make it a reliable and low-maintenance solution for home decor.
With ONDECOR's extensive range of coastal designs in peel and stick wallpaper, you are bound to find something that resonates with your personal style. Be it nautical themes, beach-inspired patterns, modern coastal designs, or blue and white coastal themes, there is something for every taste.
In conclusion, peel and stick wallpaper presents an exciting avenue to transform your space into a coastal paradise with minimal effort and maximum impact. By choosing the right design for your space and following the tips for successful installation, you can effortlessly upgrade your home decor. So, why wait? Dive into the world of coastal peel and stick wallpaper and let your walls tell a story of serene beaches, azure waters, and the refreshing coastal breeze.