Unleash Your Creativity with Innovative Peel and Stick Wallpaper Art
Introduction to Peel and Stick Wallpaper Art
Revamp your living space with a touch of creativity using peel and stick wallpaper art. This emerging trend in home decor allows you to transform your walls from bland to beautiful without the need for professional assistance or hefty renovation costs. ONDECOR LLC, one of the leading online retailers for home decor, offers a vast array of peel and stick wallpaper art, promising high-quality materials, stunning designs, and a seamless shopping experience for busy homeowners.
This innovative self-adhesive wallpaper is a game-changer in the world of interior design. It's not just wallpaper; it's an accessible form of art that brings personality, style, and vibrancy to any room. From soft floral prints to bold abstract designs, the options are limitless. Whether you're looking to refresh your living room, add a pop of color to your kitchen, or create a fun space for your kids, ONDECOR has got you covered.
The beauty of peel and stick wallpaper art lies in its simplicity. There's no need for wallpaper paste, paint brushes, or rollers. As the name suggests, you simply peel off the backing and stick the wallpaper onto your desired surface. The best part? If you decide to change up your decor or if you're moving out, you can easily remove the wallpaper without damaging your walls.
But the appeal of peel and stick wallpaper art doesn't stop at its easy application. It's about unleashing your inner artist and having the freedom to change the look and feel of your home as often as you please. It's about creating a space that truly reflects your personal style and taste.
In the following sections, we'll delve deeper into the world of peel and stick wallpaper art, exploring different styles like the popular Art Deco, detailing the numerous advantages, and guiding you on how to choose, order, install, and remove these innovative wall designs from ONDECOR. Ready to transform your space? Let's peel, stick, and enjoy the beauty of wallpaper art!
Understanding the Art Deco Style in Wallpaper Art
With the glamour of the Roaring Twenties making a comeback, the Art Deco style is experiencing a resurgence in interior design, particularly in wallpaper art. This style, born in the 1920s and '30s, has become emblematic of luxury, sophistication, and progress, successfully merging the allure of the past with contemporary aesthetics.
The Popularity of Art Deco Style
Art Deco symbolizes stability, structure, and wealth, offering a unique blend of nostalgia and modernity. It's the mainstream modern style with a twist - it's more colorful and exuberant, yet still relies on clean lines and symmetry. This balance of order and flamboyance is perfect for today's homeowners who desire a touch of vintage elegance in their living spaces. Art Deco wallpapers from ONDECOR, such as "Gatsby's Party" or "The Lodge", can effortlessly bring this popular style into your home.
Characteristics of Art Deco Wallpaper Designs
Art Deco wallpaper designs are typically characterized by symmetrical, geometric patterns, bold colors, and intricate lines. The designs can range from fan patterns, a recognizable icon of Art Deco, to geometric shapes like layered rectangles, diamonds, and triangles that create beautiful mosaic patterns. For the more adventurous, Art Deco also embraces spirals, machine-inspired designs, and nature-inspired patterns that are stylized versions of real elements.
Art Deco colors are bold with strong contrast. The iconic black, gold, and white colors capture the powerful Art Deco statement, but it also accommodates various color palettes for a more subdued reminiscence of the style. The wallpaper designs can be as versatile as "Silent Film" and "Gilded Ballroom", inspired by machinery, or as subtle as "Leaf Tiara" and "Elegant Foliage", nature-inspired patterns.
Understanding the Art Deco style and its characteristics can help you choose the perfect wallpaper art for your home. With ONDECOR's diverse and high-quality Art Deco collection, you can bring the grandeur of the Roaring Twenties into your living space, be it through geometric shapes, spirals, or nature-inspired designs. Let the journey of transformation begin!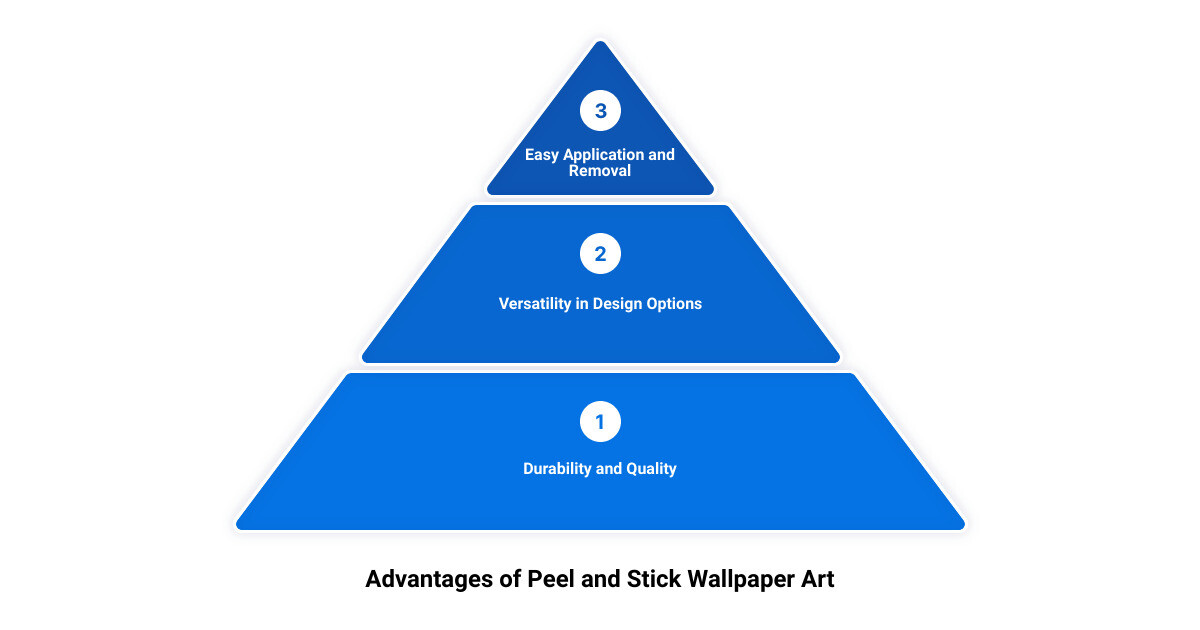 The Advantages of Peel and Stick Wallpaper Art
In the world of interior design, there are few solutions as versatile, user-friendly, and transformative as peel and stick wallpaper art. As we continue our journey with ONDECOR, it's time to delve into the numerous advantages this innovative product brings to your home decor game.
Easy Application and Removal
Firstly, the ease of application and removal is a significant benefit of peel and stick wallpapers. Traditional wallpaper installation can be a messy and laborious process, involving glue, paste, and a lot of patience. However, with peel and stick wallpaper, it's as simple as it sounds. You just peel off the backing and stick the panel onto your wall. You don't need any special tools, and it's a quick and clean process.
What's more, these wallpapers are designed with a repositionable adhesive, which means you can easily remove or reposition them without leaving any sticky residue or damaging your walls. This non-damaging aspect makes them renter-friendly, perfect for temporary residents looking to personalize their space without risking their security deposit.
Versatility in Design Options
When it comes to design options, peel and stick wallpapers offer unparalleled versatility. Whether you're looking for soft florals, bold abstracts, whimsical children's prints or charming boho patterns, there's a design for every taste. ONDECOR boasts a wide array of categories from bricks, marble, and wood to a myriad of nature-inspired designs. You can also shop by style, with options ranging from the aesthetic and architectural to the more particular Art Deco.
Moreover, the versatility of this wallpaper extends beyond walls. It can be applied to a variety of smooth surfaces such as mirrors, furniture, doors, and even appliances, opening up a world of creative possibilities.
Durability and Quality
The durability and quality of peel and stick wallpaper art from ONDECOR are second to none. Made in North America, these wallpapers have the look and feel of traditional wallpaper, minus the mess. They are constructed with a luxurious, thick wall fabric that is designed to last, ensuring they won't tear easily during application or while in use.
In conclusion, the advantages of peel and stick wallpaper art are clear, offering an effortless and mess-free way to transform your home. With their easy application, versatile design options, and high-quality construction, these wallpapers are a dream come true for any homeowner or renter looking to refresh their space.
How to Choose and Order the Right Peel and Stick Wallpaper Art from ONDECOR
Choosing and ordering the right peel and stick wallpaper art from ONDECOR will make your home decorating project a breeze. Here are some key steps to guide you through the process.
Measuring and Ordering the Right Amount
The first step in ordering the right peel and stick wallpaper art is to measure the area you intend to decorate. Whether it's a full wall or a small accent area, accurate measurements are essential. Simply send the height and width of the desired area to ONDECOR, and their design team will assist you with order details, ensuring you get just the right amount of wallpaper.
ONDECOR also offers a handy Wallpaper Calculator to help you calculate the quantity needed based on your wall measurements. This ensures you'll have enough wallpaper to cover your space without unnecessary waste or shortages.
Exploring the Wide Range of Wallpaper Categories
ONDECOR offers a wide range of wallpaper categories to cater to diverse tastes and design needs. From modern geometric patterns to whimsical florals and playful kids' designs, you can find a style to suit any room. The website is organized into categories like 'Popular', 'General', 'Plants & Animals', and 'Nature & Landscape', making it easy for you to navigate and find your perfect design.
Shopping by Style, Color, and Price
To further refine your search, you can also shop by style, color, and price. If you have a specific decor style in mind, such as Art Deco or Vintage, you can directly select from these categories. You can also filter by color, which is especially helpful if you have a particular color scheme in your room.
If you're working within a budget, browsing by price can help you find options that fit your wallet as well as your wall. ONDECOR's range of peel and stick wallpaper art is affordably priced without compromising on quality, making it an excellent choice for budget-savvy decorators.
Remember, for each sample order, you'll also receive an installing instruction and a material swatch. This allows you to test the colors and feel the texture before making your final decision.
Shopping for peel and stick wallpaper art at ONDECOR is a fun and easy process. With their wide range of styles, easy-to-use website, and helpful customer service, you'll have your space transformed in no time.
Practical Guide to Installing Your Peel and Stick Wallpaper Art
Installing your chosen peel and stick wallpaper art from ONDECOR is an exciting final step in your design journey. This process is straightforward and hassle-free, thanks to the self-adhesive nature of the wallpaper. Follow these step-by-step instructions and handy tips to ensure a smooth and successful installation.
Step-by-Step Installation Instructions
The first step is to unpack and check your order, even if you plan to install it later. Each roll of ONDECOR's removable wallpaper is labeled sequentially at the bottom, so you'll know which strip to install first.
Next, prepare your walls by ensuring they are clean and dry. With the wallpaper's adhesive back, simply peel off the plastic backing and adhere it smoothly onto your wall. You don't need glue or any special tools, just your hands and a bit of patience. Start at the top of your wall and work your way down, smoothing out any bubbles or wrinkles as you go.
Keep in mind that the adhesive on ONDECOR wallpaper is repositionable, so if you make a mistake or need to adjust the placement, you can easily peel it off and reapply.
Tips for Repositioning and Removing the Wallpaper
The beauty of peel and stick wallpaper is its flexibility. If you want to reposition your wallpaper, simply peel it off the wall and reapply it where needed. The adhesive is designed to stick multiple times without losing its strength, so you don't have to worry about it not sticking back on.
When the time comes to remove your wallpaper, whether for a design refresh or a move, the process is just as simple. Start from the corner of the strip and gently pull it off in a downward direction. The wallpaper will come off without leaving behind any residue or causing damage to your walls.
Remember, the key to a successful wallpaper installation is patience and preparation. Take your time, follow the instructions, and in no time at all, you'll have a beautifully transformed space with your new peel and stick wallpaper art from ONDECOR.
Customer Experiences and Reviews of ONDECOR's Peel and Stick Wallpaper Art
One of the best ways to gauge the quality of a product is to hear what customers who have used it have to say. When it comes to ONDECOR's peel and stick wallpaper art, the feedback is overwhelmingly positive.
Highlighting Positive Customer Reviews
Customers rave about the transformational effect of ONDECOR's wallpapers on their living spaces. One customer, Sarah C., who used ONDECOR's wallpaper in an AirBNB property, gushed about the number of compliments she received from guests. "The wallpaper looks AMAZING," she said. "I get sooo many compliments on it. I couldn't be happier."
Another customer, Sophia O., used ONDECOR's wallpaper for an IKEA IVAR storage DIY project and praised its ease of application. "Super easy to apply," she said. "Definitely easier with a friend if you're a first-time wallpaper-er, which I was. Will definitely buy from here again!"
These reviews not only speak to the aesthetic appeal of ONDECOR's wallpaper designs but also to their ease of installation and versatility.
Addressing Common Customer Queries
ONDECOR understands that customers may have queries when it comes to using peel and stick wallpaper art. In response, they have a comprehensive 'Help' section on their website where customers can find answers to frequently asked questions.
Customers can also find guides on measuring their walls to ensure they order the right amount of wallpaper, along with tips on how to track their orders. If customers have further queries, ONDECOR offers an easy-to-use contact form for swift customer support.
In addition, the website provides detailed information on different wallpaper types, such as peel and stick, traditional, and commercial, to help customers make an informed decision based on their specific needs.
In conclusion, the glowing customer reviews and dedicated customer support make ONDECOR the go-to destination for high-quality, stylish, and easy-to-apply peel and stick wallpaper art. Whether you're seeking to revamp your living room, bedroom, or even an Airbnb property, ONDECOR has got you covered.
Conclusion: Transform Your Space with ONDECOR's Peel and Stick Wallpaper Art
In the grand tapestry of home decor, ONDECOR's peel and stick wallpaper art weaves a compelling narrative of style, innovation, and convenience. The task of transforming your space into a personalized sanctuary is no longer a daunting challenge. Rather, it's an exciting opportunity to infuse your personality into every corner of your home.
By choosing peel and stick wallpaper art, you're not just selecting a product; you're opting for a hassle-free, aesthetic experience. With the easy application and removal process, you can say goodbye to the time-consuming and messy traditional wallpaper installation. Whether you're a busy homeowner, a college student in a dorm, or a renter wanting to personalize your space, ONDECOR's removable wallpaper art is an unmatched solution.
ONDECOR's diverse range of designs, from the captivating Art Deco style to the serene nature and landscape motifs, offers something for everyone. These wallpapers are not just about aesthetics; they're about creating a space that mirrors your personality and lifestyle. They're about transforming a simple wall into a canvas that tells your story.
Moreover, ONDECOR stands out for its commitment to providing quality products. The durability of these wallpapers ensures that your spaces stay stylish and vibrant for a long time. And in the rare event that you face any issues, ONDECOR's customer support is always there to assist you.
Shopping for wallpaper has never been easier. With user-friendly online navigation, you can explore, choose, and order your favorite wallpaper designs from the comfort of your home. From measuring your walls to ordering the right amount, every step of the process is designed to be seamless and straightforward.
In the end, your home is more than just a collection of rooms—it's a reflection of you. With ONDECOR's peel and stick wallpaper art, you can unleash your creativity and transform your space into a unique work of art. So why wait? Embark on this exciting decor journey today, and let your walls narrate your tale. With ONDECOR, let your home be your canvas, and let your decor be your art.