Unleash Creativity with Colorful Removable Wallpaper!
Introduction: The Power of Colorful Removable Wallpaper
Are you ready to bring a splash of color and creativity into your living spaces? Look no further than the eye-catching and versatile world of colorful removable wallpaper. Offering the perfect blend of style, convenience, and affordability, these wallpapers are an excellent choice for busy homeowners looking to reinvent their homes with minimal fuss. They're also a great choice for renters who want to personalize their space without leaving a permanent mark.
At ONDECOR, we offer a vast selection of high-quality, eco-friendly, and non-toxic removable wallpapers that come in a variety of colors and designs. Whether you're seeking a bold accent for your living room, a whimsical theme for your child's bedroom, or a sophisticated pattern for your home office, ONDECOR's collection of colorful removable wallpaper has you covered.
In this article, we'll delve deeper into what exactly removable wallpaper is, its benefits, how to choose and apply it, and how our stunning range of designs can help transform your home. So, without further ado, let's dive into the vibrant world of colorful removable wallpaper!
Understanding Removable Wallpaper
Welcome to the vibrant world of removable wallpaper — a realm where creativity meets convenience and style meets simplicity. So, what exactly is removable wallpaper? Let's find out!
What is Removable Wallpaper?
Just as the name suggests, removable wallpaper is a type of wall covering that's designed to be easily applied and removed without any fuss. Unlike traditional wallpaper, it doesn't require any tools, chemicals, or steamers for removal. The secret lies within its self-adhesive backing, which means no more messing around with wallpaper paste. Simply peel and stick it onto your desired surface for an instant room transformation!
Are Removable Wallpapers Really Removable?
Probably one of the most common questions when it comes to this type of wall decoration is, "Are removable wallpapers really removable?" The answer is a resounding yes! The beauty of peel and stick wallpaper is its ability to be completely removed without leaving any mess behind. This makes it an ideal choice for renters or anyone who likes to regularly update their decor.
How Long Will Peel and Stick Wallpaper Last?
Another crucial aspect to consider is the longevity of removable wallpaper. According to experts, as long as the surface it's applied to is clean, smooth, and has the correct paint finish, your vibrant peel and stick wallpaper should last for as long as you'd like to keep it up. This longevity coupled with its easy removal makes it a practical and stylish option for any home.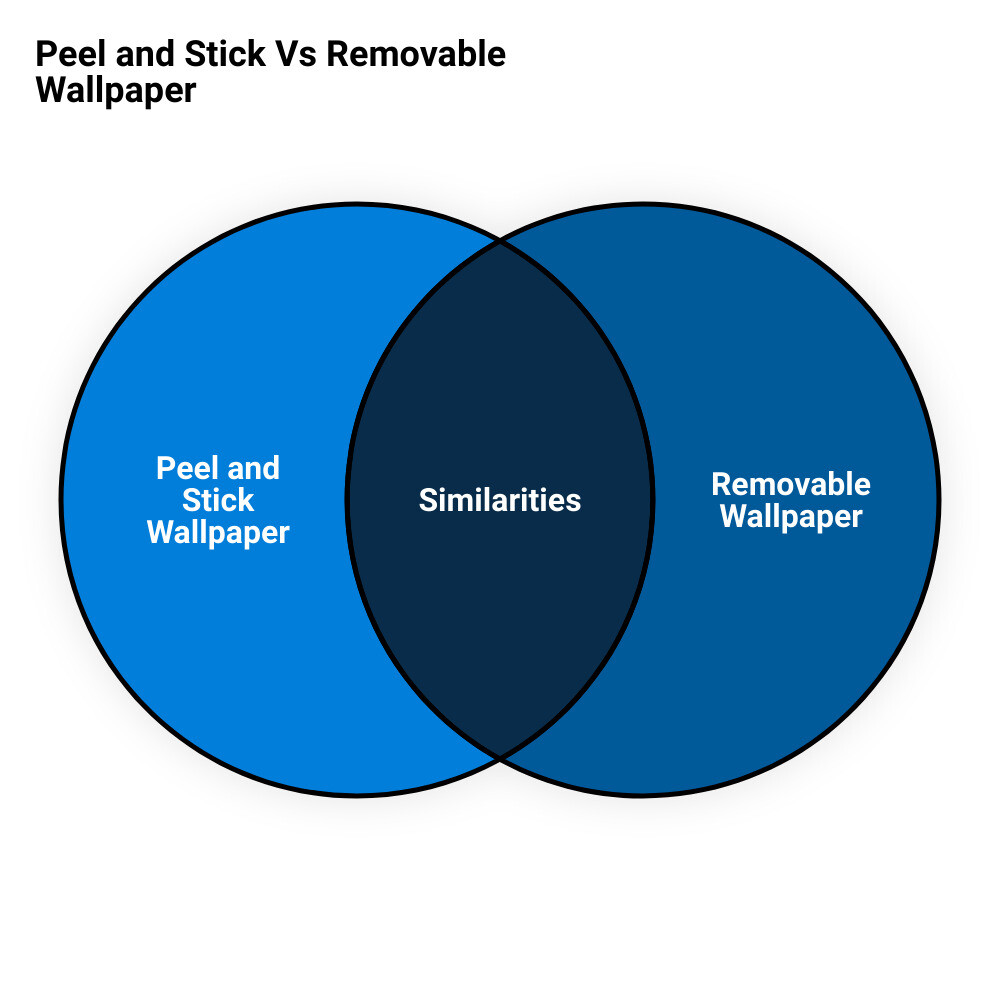 The Difference Between Peel and Stick and Removable Wallpaper
While the terms "peel and stick" and "removable" are often used interchangeably when it comes to wallpaper, there is a slight difference. The main distinction lies in the back liner. Traditional wallpaper and some pre-pasted prints require water or another activator to stick to the walls, while peel and stick wallpaper comes with a self-adhesive backing that requires no other activation. This makes the application process even more straightforward.
Is Removable Wallpaper More Expensive?
You might be thinking that all these benefits must come with a hefty price tag. However, the truth is, removable wallpaper is typically less expensive than traditional wallpaper. This is partly due to the smaller roll sizes, but regardless, you'll find that peel and stick options offer a cost-effective solution for your home decor needs.
So there you have it — a comprehensive understanding of what removable wallpaper is, its advantages, and how it can fit into your budget. With this knowledge, you're one step closer to transforming your living spaces with the power of colorful removable wallpaper!
The Benefits of Using Colorful Removable Wallpaper
Brighten up your world with the plethora of advantages colorful removable wallpaper brings to your home decor. Not only does it add a burst of color and vibrancy to your space, but it also offers a host of other benefits that make it stand out as an ideal home improvement solution.
Easy Application and Removal
Gone are the days of wrestling with traditional wallpapers and their messy, time-consuming application process. With peel and stick wallpapers, the application is as straightforward as it sounds — simply peel off the backing and stick the wallpaper onto your desired surface. Need a change of scenery? Not to worry, as the removal process is just as simple, leaving no mess behind! This feature is especially beneficial for those who love to frequently switch up their home aesthetics or for renters who want to personalize their space without damaging the walls.
Versatility in Design and Color
With colorful removable wallpaper, the design possibilities are endless. Whether you're a fan of floral designs for a touch of nature, geometric patterns for a modern look, or stripes and tiles for a classic appeal, there's a design to suit everyone's taste. From vibrant hues to more subdued tones, the variety of colors available also gives you the freedom to create a space that truly reflects your personal style. In short, ONDECOR's range of colorful removable wallpaper ensures you're spoiled for choice!
Cost-Effective Home Decor Solution
Investing in colorful removable wallpaper is a cost-effective solution for your home decor needs. As mentioned earlier, it's typically less expensive than traditional wallpaper, making it a more wallet-friendly option. Additionally, its easy application and removal mean you can save on professional installation costs. Plus, with its durability, you won't have to worry about frequent replacements, giving you more bang for your buck!
At ONDECOR, we're not just committed to transforming your living spaces; we're also dedicated to doing our part for the environment. That's why our wallpapers are eco-friendly and non-toxic, ensuring they're safe for both your home and the planet. So, you can rest easy knowing you're making a decor choice that's not only stylish but also sustainable.
In a nutshell, choosing colorful removable wallpaper is a win-win situation — it's easy to apply, offers a wide variety of designs and colors, is cost-effective, and eco-friendly. With these benefits, it's clear why more and more homeowners are opting for this vibrant home decor solution!
Exploring ONDECOR's Range of Colorful Removable Wallpaper
Welcome to a world where your walls can tell a story, reflect your personality, and elevate your space's aesthetic appeal. ONDECOR's extensive range of colorful removable wallpaper offers options for everyone, from bold, eye-catching designs for the adventurous to subtle, chic patterns for the minimalist.
Floral Designs for a Touch of Nature
Bring the beauty of the outdoors inside with ONDECOR's colorful floral wallpapers. From delicate pastel peonies to bold pink florals, these designs are perfect for creating a calming, nature-inspired space. The Colorful Floral Wallpaper has a vibrant and elegant design that can revitalize any room.
Geometric Patterns for a Modern Look
If you're looking for something more contemporary, ONDECOR's range of geometric patterns will be right up your alley. These designs, which include the eye-catching Candy Terrazzo Design, are perfect for adding a modern touch to your home. The abstract shapes and vibrant colors are a surefire way to infuse your space with personality and style.
Stripes and Tiles for a Classic Appeal
For those who prefer a more classic look, ONDECOR offers a variety of stripes and tile designs. These timeless patterns, including the Vintage Retro Geometric Design, can add a touch of sophistication to any space. Whether you're decorating your living room, kitchen, or bedroom, these designs provide a refined backdrop to your home decor.
Textured Wallpapers for a Unique Feel
Experience a new dimension of wall decor with ONDECOR's textured wallpapers. Designs like the Coastal Terrazzo wallpaper add a unique tactile element to your walls, creating a dynamic visual experience that both captivates and intrigues.
Kid-Friendly Themes for Nurseries and Children's Rooms
Creating a fun and engaging environment for your little ones is easy with ONDECOR's kid-friendly themes. From the vibrant Banana leaf design to the charming Baby Blue Lemons wallpaper, these designs are sure to ignite your child's imagination and create a space they'll love.
With ONDECOR's colorful removable wallpaper, your walls become a canvas for your creativity. No matter your design preference, you'll find a pattern that speaks to you and transforms your space into a reflection of your personal style.
How to Choose the Right Colorful Removable Wallpaper
Choosing the right wallpaper can be a game-changer for your interior design. It's not just about picking a pattern you like, but about finding a design that elevates your space and resonates with your style. Here are a few helpful tips on how to navigate through the wide range of colorful removable wallpapers at ONDECOR and choose the perfect one for your home.
Consider the Room and Its Purpose
The room where you plan to apply the wallpaper plays a significant role in your choice. Start by considering the purpose of the room. For instance, a serene floral design might be ideal for a bedroom, creating a peaceful environment conducive to relaxation. On the other hand, a playful, vibrant pattern may be more suited for a kid's room or a creative workspace.
Think about the size of the room too. Lighter colors can make a small room feel larger and brighter, while dark or bold colors can add depth and coziness to a large room.
Match with Existing Decor and Furniture
Your new wallpaper should complement, not clash with, your existing decor. Consider the color and style of your furniture, curtains, and other decor elements in the room. If your furniture is modern and sleek, you might opt for geometric patterns or abstract designs. If your decor leans towards the traditional, classic stripes or floral patterns might be more appropriate.
Remember, it's not just about matching colors. Think about the overall feel and theme of your room. If your space has a rustic charm, a wood or brick design from ONDECOR's range of removable wallpapers could be just the right fit.
Think About Your Personal Style and Preferences
Lastly, but most importantly, your wallpaper should reflect your personal style. Are you drawn to bold, bright colors, or do you prefer softer, pastel tones? Do you love the intricate details in a complex pattern, or does the simplicity of a minimalist design appeal to you more?
ONDECOR offers a wide variety of designs and colors to cater to different tastes. Whether you're looking for a bold accent to express your vibrant personality or a subtle backdrop to create a soothing ambiance, you're sure to find a design that resonates with your style.
Choosing the perfect wallpaper is a unique opportunity to make a personal statement and transform your space. Explore ONDECOR's extensive range of colorful removable wallpapers and find the one that tells your story.
Tips for Applying Your Colorful Removable Wallpaper
Unleashing your creativity with colorful removable wallpaper is only half the adventure. The other half lies in the application and maintenance of your chosen design. The good news? Applying and maintaining your wallpaper isn't a herculean task. It's a straightforward process that requires a little planning and care.
Preparing the Wall for Application
Before you start sticking your wallpaper, you must prepare the wall. It's like setting the stage for your wallpaper's grand entrance. Ensure the surface is clean, smooth, and has the correct paint finish. Any dust or unevenness can affect the wallpaper's adherence and overall appearance. You can use a mild detergent and water to clean the wall, ensuring you rinse thoroughly and dry before moving to the next step.
Applying the Wallpaper for Best Results
Applying your colorful removable wallpaper is a breeze, thanks to its peel-and-stick feature. Start by peeling off the backing liner of the wallpaper from the top. Stick the wallpaper to the wall, moving from top to bottom, while smoothing out any bubbles or creases with a wallpaper smoother as you go. The beauty of removable wallpaper is that if you make a mistake, you can gently peel it off and re-position it.
Maintaining Your Wallpaper for Longevity
As Rees mentioned in one of the sources, peel-and-stick wallpaper should last for as long as you'd like to keep it up, given the wall surface was adequately prepared. However, ensuring longevity also involves regular maintenance.
The maintenance routine for your colorful removable wallpaper is simple. Regularly dust off the wallpaper with a soft cloth or a duster, and for stubborn stains, use a damp cloth and gentle cleaning solution. Avoid using harsh chemical cleaners as they could damage the wallpaper's color and texture.
To sum it up, the application and maintenance of your colorful removable wallpaper are as vibrant and hassle-free as the wallpaper itself. With a bit of preparation, precision in application, and regular upkeep, your walls will keep telling your colorful story for years to come.
Conclusion: Transform Your Space with Colorful Removable Wallpaper
Stepping into a room should feel like opening a book to your favorite chapter. With colorful removable wallpaper, you can write your own visual narratives on the walls of your home, expressing your unique taste and style in a way that's both impactful and temporary. Whether you're looking to add a splash of color to your living room, create a whimsical theme for your kid's room, or simply want to experiment with different patterns and designs, ONDECOR's range of colorful removable wallpapers is your palette, and your home is the canvas.
Removable wallpaper is more than just a cost-effective, eco-friendly alternative to traditional wallpaper. It's a tool for creative expression, an opportunity to transform a bland wall into a vibrant work of art. It's a testament to your unique sense of style, with the added benefit of being completely removable, leaving no mess behind. It's the perfect balance between the permanence of paint and the transience of decor, offering a solution that's just right for the modern homeowner.
Moreover, ONDECOR's commitment to providing an extensive range of designs, from floral and geometric patterns to kid-friendly themes, ensures that there's something for everyone. Whether you're a fan of the minimalistic Scandinavian style or prefer the boldness of boho-chic, you're sure to find a design that resonates with your aesthetic sensibilities.
So, why not embark on your home makeover journey with colorful removable wallpaper? With the right choice of design, color, and a bit of application know-how, you can transform your space in a way that's uniquely you. After all, your home should tell your story, and what better way to do so than with the vibrant hues and stunning designs of removable wallpaper.
Remember, it's not just about decorating a room; it's about creating a space that reflects you. And with ONDECOR's colorful removable wallpapers, you're not just adding color to your walls, but also adding life and personality to your space. So go ahead, unleash your creativity and transform your home with the power of color, pattern, and your unique style.