Uncover Extraordinary Peel and Stick Wallpaper Stores Nearby
Tired of staring at dull, blank walls? Discover the transformative power of peel and stick wallpaper! This innovative home decor solution allows you to dramatically alter your living spaces without the commitment and mess of traditional wallpapers. Whether you're a busy homeowner looking to revamp your spaces or an interior design enthusiast seeking the latest trends, peel and stick wallpapers offer a quick and hassle-free way to infuse style and character into your home.
Peel and stick wallpaper, as the name implies, is a type of wallpaper that adheres to walls using a self-adhesive backing. It's as simple as peeling off the backing and sticking the wallpaper onto your desired surface. What sets it apart is its flexibility and ease of use. With peel and stick wallpaper, you can easily change up your decor as often as you want without damaging your walls. It's perfect for rental properties, DIY projects, or for those who simply love to switch up their home aesthetics now and then.
At ONDECOR, we offer a vast selection of high-quality peel and stick wallpapers to match any style. From lush florals and geometric patterns to whimsical animal prints and soothing nature-inspired designs, there's something for everyone. All our wallpapers are environmentally friendly and safe for your homes, so you can shop with peace of mind.
In this article, we'll delve into everything you need to know about peel and stick wallpaper. From understanding its durability to choosing the best design, cost considerations, and even handy application tips. Plus, we'll uncover the best peel and stick wallpaper stores nearby. So, stick around and let's transform your spaces together.
Understanding the Durability of Peel and Stick Wallpaper
When diving into the world of wallpaper, it's crucial to grasp the durability of peel and stick wallpaper. After all, it's not just about aesthetics but also about how long your investment will last and stand the test of time.
How Long Will Peel and Stick Wallpaper Last?
Peel and stick wallpaper, also known as removable wallpaper, is often seen as a temporary solution to enhance the walls of your home. This is because it is generally expected to last up to three years before it begins to peel or tear away from the walls. However, its longevity can vary depending on its quality, the condition of your walls, and how well it's applied. But remember, its ephemeral nature makes it an excellent choice for those looking for a short-term commitment or frequently changing their home decor.
Does Peel and Stick Wallpaper Really Stay?
You might be wondering, "Does peel and stick wallpaper really stay?" The answer to this question, surprisingly, is yes! With proper application techniques, peel-and-stick wallpaper can last five years or longer. However, its lifespan could be significantly reduced if applied incorrectly or removed and reapplied multiple times. Hence, it's vital to follow the manufacturer's instructions carefully during application to ensure its longevity.
Moreover, it's worth noting that sometimes, peel and stick wallpaper may not adhere well to certain types of walls. For instance, it might struggle to stick on textured or extremely smooth surfaces. Therefore, it's essential to make sure your walls are suitable for peel and stick wallpaper.
In the next section, we'll discuss how to choose the best peel and stick wallpaper to ensure durability and an amazing transformation for your living spaces. Stay tuned!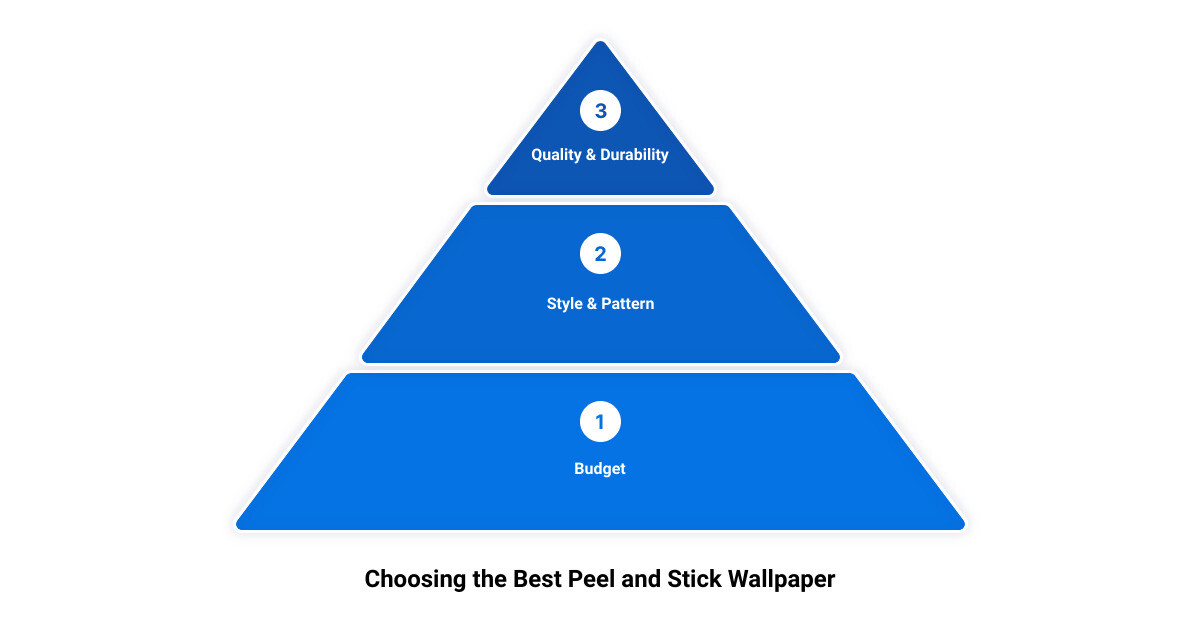 Choosing the Best Peel and Stick Wallpaper
Transforming your living space is a thrilling endeavor, but knowing which peel and stick wallpaper is the best for your home can be overwhelming. Fear not, we've got you covered! In this section, we're diving into the nitty-gritty of choosing the perfect peel and stick wallpaper that will not only enhance your home's aesthetic but also offer durability and ease of application.
What Type of Peel and Stick Wallpaper is Best?
Peel and stick wallpaper comes in various types, with each offering unique benefits. Your choice will largely depend on your style preference, the room's requirements, and your budget. However, after careful evaluation, we found that the Rifle Paper Co. Luxembourg Wallpaper stands out due to its high-quality build, easy application, and stunning pattern. The saturated colors of this wallpaper make it look more expensive than it really is, adding a touch of luxury to your walls.
In addition to the aesthetic, it's also crucial to consider the material of the wallpaper. For instance, a PVC wallpaper offers affordability without compromising the design quality. It is layered with acrylic or PVC, making it moisture-resistant and ideal for rooms exposed to humidity like bathrooms or kitchens.
Fabric wallpapers are another excellent option. These are printed on fabric-based material or have a vinyl layer of design on top of the fabric material. They add a touch of elegance to your walls but require a lightweight and removable liquid starch adhesive for application.
Factors to Consider When Choosing Peel and Stick Wallpaper
Choosing the best peel and stick wallpaper goes beyond just picking a pretty pattern. Here are some key factors to consider:
Durability: Opt for high-quality wallpapers that can withstand wear and tear. Check for features like water-resistance and durability of the adhesive.

Ease of application: Look for wallpapers that come with gridlines for easy matching and application. The adhesive should be strong enough to stick well but also allow for repositioning.

Price: Keep your budget in mind. Remember, you'll need to cover the whole wall, so consider the price per square foot. Aim to keep your price between $1.00 – $1.50 per square foot.

Room requirements: Consider the room where you'll apply the wallpaper. For instance, moisture-resistant wallpapers are ideal for bathrooms and kitchens.

Design and color: Lastly, choose a design and color that matches your room's decor and reflects your personal style.
Choosing the right peel and stick wallpaper can be a game-changer for your home decor. With these factors in mind, you're well on your way to picking the perfect wallpaper that will transform your space and leave a lasting impression. Next up, we'll explore the cost of peel and stick wallpaper, so stay tuned!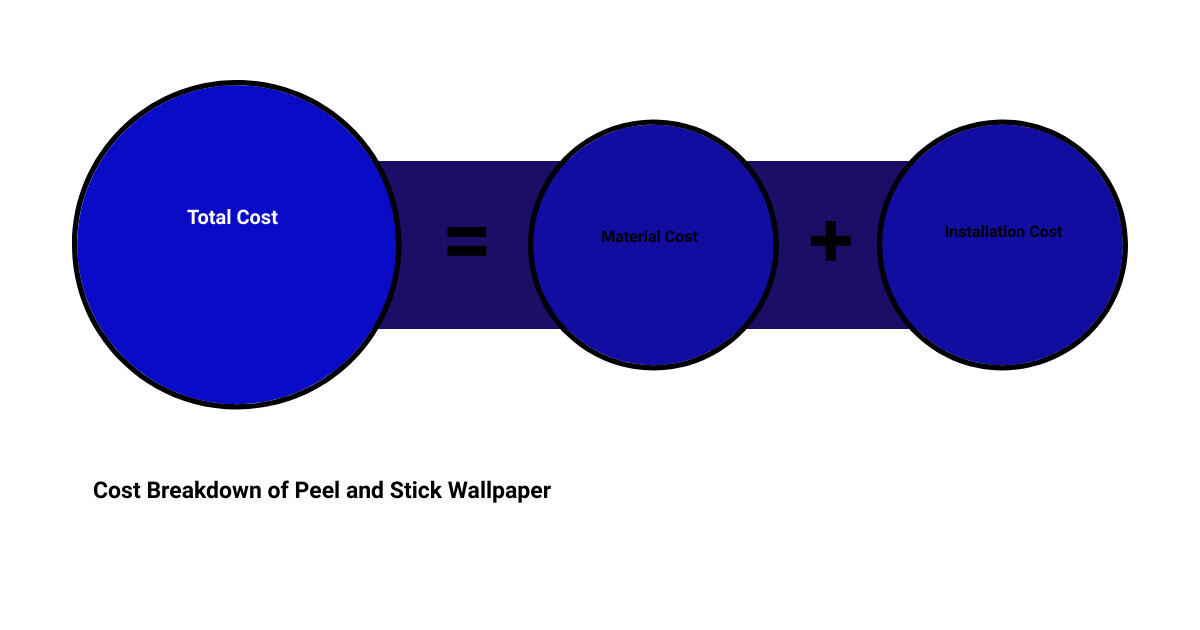 Cost of Peel and Stick Wallpaper
Your budget is a crucial factor when revamping your space with peel and stick wallpaper. With a range of prices available, understanding how much peel and stick wallpaper costs and learning how to find affordable options can help you make the most of your investment without sacrificing quality or style.
How Much Does Peel and Stick Wallpaper Cost?
Peel and stick wallpaper prices can vary significantly depending on the brand, design, and material quality. Generally, you can expect to pay anywhere between $1.00 to $1.50 per square foot. When purchasing, always check the roll size to determine how much square footage a single roll covers. For instance, on ONDECOR, you can find beautiful patterns like the Beige Vintage Tile Wallpaper or the Wall Prints Wall Hanging design, currently on sale for as low as $0.50 per square foot. Always remember that while price is essential, the quality and design should also be considered to ensure it matches your style and lasts as long as you need it.
Tips for Finding Affordable Peel and Stick Wallpaper
Searching for affordable peel and stick wallpaper doesn't mean you have to compromise on style or quality. Here are some tips to help you find budget-friendly options:
1. Sales and Discounts: Keep an eye out for sales and discounts. Online stores like ONDECOR often have sales where you can score top-quality wallpapers at a reduced price.
2. Compare prices: Don't limit yourself to one store. Explore different online platforms and compare prices to ensure you're getting the best deal.
3. Choose versatile designs: Opt for designs that are versatile and can work in multiple spaces. This way, if you choose to change the wallpaper's location, it will still match your decor.
4. Consider the Longevity: While it might be tempting to go for the cheapest option, consider how long you plan on keeping the wallpaper. Sometimes, investing a bit more can provide a wallpaper that lasts longer and stays vibrant, saving you money in the long run.
Remember, shopping for peel and stick wallpaper is about balance. Striking the right balance between cost, quality, and design will ensure you get the best value for your money. In the next section, we'll uncover the top peel and stick wallpaper stores near you for convenient and diverse shopping options. Stay tuned!
Top Peel and Stick Wallpaper Stores Near You
Let's now dive into the finest places to shop for peel and stick wallpaper, offering a plethora of options to help you transform your space.
ONDECOR: High-Quality, Eco-Friendly Peel and Stick Wallpaper
First up on our list is ONDECOR, your go-to online store for high-quality and eco-friendly peel and stick wallpaper. ONDECOR is trusted by over 48,000 customers worldwide and has sold more than 300,000 wallpapers up until December 2022. They offer a wide array of wallpaper types including peel and stick, traditional, and commercial. Their wallpapers are known for their premium quality and longevity, making them an excellent choice for your home. ONDECOR also provides resources such as a wallpaper calculator, measuring guides, and FAQs to assist you in your wallpapering journey.
The Home Depot: Wide Variety of Peel and Stick Wallpaper
Next up is the well-known home improvement store, The Home Depot. They boast a wide variety of peel and stick wallpapers, offering a range of designs from neutral tones to bold, colorful patterns. You can choose from different categories such as appliances, décor, furniture, and more, making it a one-stop-shop for all your home improvement needs. In addition, The Home Depot provides convenient online and in-store shopping options, allowing you to choose the most suitable method for you.
Amazon: Convenient Online Shopping for Peel and Stick Wallpaper
Lastly, for those who prefer online shopping, Amazon offers a vast selection of peel and stick wallpapers. From floral to geometric designs, Amazon caters to all tastes and preferences. Plus, with their quick delivery options and detailed product reviews, you can make an informed decision and have your preferred wallpaper delivered right to your doorstep.
Choosing the right store for your wallpaper needs is crucial. Whether you prioritize eco-friendly options like ONDECOR, want a wide variety like The Home Depot, or prefer the convenience of online shopping with Amazon, there's a store out there to meet your needs. Next, we'll provide tips on how to apply peel and stick wallpaper for optimal results.
How to Apply Peel and Stick Wallpaper for Best Results
After finding the perfect peel and stick wallpaper from your preferred store, the next crucial step is applying it correctly. Done right, the application can lead to stunning results that transform your space and reflect your personal style. Follow these steps to ensure your peel and stick wallpaper adheres well, looks great, and lasts for years.
Prepare Your Walls
Before you begin applying the wallpaper, it's essential to prepare your walls. This includes cleaning, priming, and painting to create a smooth surface for the wallpaper to adhere to. Make sure your wall is free from dust, dirt, and grease for the best results. A clean, primed, and painted wall will not only allow the wallpaper to stick better but also enhance its overall appearance.
Measure and Cut Your Wallpaper
Once your walls are ready, measure the surface area you wish to cover and cut your wallpaper panels accordingly. Carefully measure the height and width of your wall, ensuring you allow for a little extra for trimming. Remember, it's better to have a bit too much than not enough. Cut your wallpaper panels according to these measurements.
Align Your Wallpaper
This step is all about precision. It's important to align your wallpaper correctly before removing the backing. This can be done by taping strips of wallpaper to line them up, ensuring that patterns match and seams are flush. Accurate alignment ensures a seamless and professional finish.
Apply the Wallpaper
Once your wallpaper is lined up, you can start applying it to the wall. Start at the top, closest to the ceiling, and slowly peel off the backing as you stick the wallpaper down. Apply the wallpaper panel by panel, ensuring each one lines up with the next.
Smooth Out Any Bubbles
After the wallpaper is up, use a squeegee to smooth out any bubbles or creases. This will give your wallpaper a smooth, flawless finish. If you notice any misalignments or bubbles, gently peel off the wallpaper and reapply. Remember to readjust as needed.
Applying peel and stick wallpaper can be a fun and rewarding DIY project. With the right preparation, careful measuring, and precise application, you can transform your space with a new look in no time. With the variety of designs available from stores like ONDECOR, The Home Depot, and Amazon, the possibilities for your space are endless.
Conclusion: Transform Your Space with Peel and Stick Wallpaper
The world of peel and stick wallpaper offers an array of astonishing design possibilities. From the serenity of floral patterns to the exotic elegance of Moroccan tiles, there's a perfect design for every taste, style, and space. Whether you're looking to add a pop of color to your kitchen, elevate your bathroom with a touch of elegance, or simply change the entire vibe of your living room, peel and stick wallpapers are the game-changer you've been waiting for.
Discover the ease and convenience of peel and stick wallpapers, and say goodbye to the mess and fuss of traditional wallpapering methods. With this innovative solution, you can easily update and refresh your space without a long-term commitment, making it an excellent choice for renters and homeowners alike.
ONDECOR stands as a testament to the potential of this revolutionary product, offering a range of high-quality, eco-friendly designs that can be easily applied and removed without damaging your walls. They cater to your aesthetic preferences, from the tranquility of blue tile wallpapers to the sophistication of marble-inspired textures.
In essence, peel and stick wallpapers are not just about aesthetics, they're about functionality, affordability, and convenience. They offer a hassle-free solution to revamp your space, allowing you to express your unique sense of style and transform your home or office into a reflection of your personality.
The journey to a beautifully decorated space is just a peel and stick away. So, why wait? Unleash your creativity, explore the extraordinary designs available, and let your walls tell your story. With peel and stick wallpapers, you're not just decorating a room, you're creating a home.