Transform Your Space with Peel and Stick Floral Delights
Introduction: The Beauty and Convenience of Peel and Stick Flowers for Walls
Imagine transforming your living space into a blooming garden, filled with the vibrant colors and patterns of nature, all without the hassle of maintenance or the worry of wilting. This dream can easily become a reality with the magic of peel and stick flowers for walls. These decal wonders are not just visually appealing but also a convenient and flexible solution to elevate your home decor.
Peel and stick floral wall decorations bring in the charm of spring blossoms and summer bouquets right into your interiors, regardless of the season outside. With a wide array of colors, styles, sizes, and themes available, these floral decals allow you to express your creativity and personal style in an easy and affordable way. The best part? They are not permanent and can be easily removed or repositioned, making them ideal for renters or for those who frequently like to switch up their decor.
Whether you wish to create a tranquil garden-themed room, a vibrant and lively space, or a sophisticated floral accent wall, peel and stick flowers for walls offer an amazing range of possibilities. Stay tuned as we delve deeper into the world of floral wall decals, explore how to apply them, and look at some exciting ways to incorporate 3D flower art into your decor. We will also introduce you to ONDECOR, a brand committed to providing high-quality, eco-friendly wallpapers, including an enchanting selection of peel and stick floral delights. So get ready to transform your space with the beauty and convenience of floral wall decals!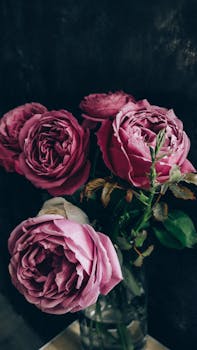 The Appeal of Floral Wall Decals
Floral wall decals are one of the most popular and versatile ways to add a touch of nature and elegance to your interior decor. They transform your walls into a blooming garden, creating an atmosphere of tranquility and beauty.
Bringing Nature Indoors with Floral Decals
Why limit the beauty of flowers to your garden or a vase? With peel and stick floral wall decals, you can bring blooming blossoms right into your living room, bedroom, or even your kitchen. Just like a breath of fresh air, these decals infuse life, color, and a sense of calm into your space. And the best part? They don't wilt or wither!
Variety of Colors, Styles, and Sizes
One of the great advantages of floral wall decals is the wide variety available. Whether you prefer the delicate elegance of peonies, the bright cheer of sunflowers, or the exotic allure of tropical leaves, there's a decal to suit your taste. You can choose from a spectrum of colors - from light pastels to bold and vibrant hues. And with a range of sizes, you can opt for subtle accents or make a grand statement with larger-than-life blooms. As an example, ONDECOR offers an array of floral wall decals like the 'Autumn Rose Floral Wall Decals' and 'Peony Floral Wall Stickers' to help you create the perfect aesthetic.
Temporary and Versatile Decor Option
Let's face it, not all of us are ready for a long-term commitment when it comes to wall decor. That's where the magic of peel and stick flowers for walls comes into play. They're easy to apply, and when you feel like a change, they're just as easy to remove or reposition, leaving no residue or damage. Plus, they're not just for walls - you can apply them on windows, furniture, or any smooth surface. So whether you're sprucing up your home for a season, a special occasion, or just because, floral wall decals offer a flexible and stylish solution.
How to Apply Peel and Stick Flowers for Walls
Applying peel and stick flowers to your walls is a breeze, thanks to the user-friendly design of these wall decals. They come with adhesive backs that stick to any smooth surface, ensuring a quick and hassle-free installation process. Here's a step-by-step guide on how to apply these floral delights to your walls.
Step-by-Step Guide to Applying Wall Decals
Clean the Surface: Start by cleaning the wall where you plan to apply the decals. It should be free of dust and grease for the decals to stick properly.

Plan Your Layout: Before you start sticking the flowers, plan your layout. You might want to arrange them on the floor first to get an idea of how they will look on the wall.

Peel and Stick: Now, peel the backing off the decals and stick them gently on the wall. Start from the top and smooth out any bubbles as you go down.

Smooth Out: Once the decal is on the wall, use a flat object like a credit card to smooth out any air bubbles towards the edge of the decal.

Repeat: Repeat the process with the rest of the decals until your floral wall decor is complete.
Remember, patience is key to achieving a perfect finish. Don't rush the process; take your time to ensure each decal is applied smoothly and evenly.
Tips for Repositioning and Removing Decals
One of the great advantages of peel and stick flowers for walls is their repositionable nature. If you're not happy with the initial placement, you can easily peel them off and reapply. However, be gentle when repositioning to avoid damaging the decal or the wall surface.
To remove the decals, simply peel them off from the wall. They won't leave any sticky residue behind. However, if you've left them on for a long time and find some residue, a little bit of soap and warm water should do the trick.
The flexibility of peel and stick flowers for walls allows you to change your decor as often as you wish. They're a fantastic way to keep your home looking fresh and vibrant without the commitment and cost of traditional wallpaper.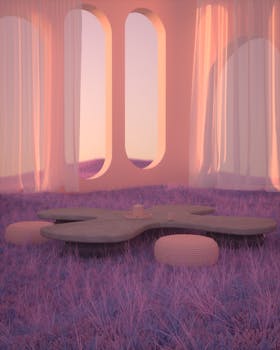 How to Create 3D Flower Wall Art with Peel and Stick Decals
3D wall art is all the rage in the world of interior décor today. It adds a dynamic, textured look to your space, providing a stunning visual effect that's sure to captivate your guests. When paired with the convenience and versatility of peel and stick decals, creating 3D flower wall art becomes a fun, rewarding DIY project that anyone can tackle.
Easy Steps to Make 3D Paper Flowers
Creating 3D paper flowers is a simple, budget-friendly way to add a touch of nature to your walls. To create these, you will need colored paper, scissors, and a little bit of patience. Here's a simplified step-by-step guide based on a popular technique:
Cut Out the Flowers: For each 3D paper flower, cut out two flower shapes from the same color paper. The size of the shapes will determine the size of your final flower.
Score Paper Flowers: If you're cutting by hand, score the paper flowers along each petal to create a realistic, curved effect.
Fold Paper Flowers: Fold the scored paper flowers along the line to give them a 3D effect.
Glue Paper Flowers Together: Join the two flowers together at the center using glue. Make sure the petals are offset for a fuller look.
Add a Flower Center (Optional): If you want to add more detail, cut out a small circle from a contrasting color paper and glue it in the center of the flower.
Incorporating 3D Flowers into Wall Decals
Once your 3D paper flowers are ready, it's time to incorporate them into your wall decals. Choose a wall space and decide on a design. This could be a full flower wall, a floral border, or even a single statement flower. Then, use your peel and stick flowers for walls from ONDECOR to create the design on the wall.
You could go for a completely floral look with the Flower Wallpaper - Removable Wallpaper Peel and Stick Wallpaper Wall Paper Wall - B298 or mix things up with different designs. Once the decals are applied, carefully stick your 3D paper flowers on top of the decals. Use a strong adhesive that won't damage your wall or the decal.
Remember, the beauty of peel and stick flowers for walls is the freedom to change your decor whenever you want, so don't be afraid to experiment with different designs and 3D elements. With this simple guide, you're well on your way to creating an enchanting floral display that brings your walls to life.
ONDECOR: Your Go-To Source for High-Quality, Eco-Friendly Wallpapers
Now that you're equipped with the knowledge and inspiration to transform your space with peel and stick flowers for walls, where should you shop for the best quality and variety? Look no further than ONDECOR, a trusted online provider of high-quality, eco-friendly wallpapers.
Wide Range of Peel and Stick, Traditional, and Commercial Wallpapers
ONDECOR offers a broad selection of wallpaper types, including peel and stick, traditional, and commercial wallpapers. Each type caters to a unique set of needs and preferences, ensuring you'll find the perfect match for your project. From bold floral patterns to subtle geometric designs, their catalogue caters to every style. Whether you're looking to decorate a small corner or overhaul a large commercial space, ONDECOR has the variety and quality you need.
Their peel and stick wallpapers, for instance, are perfect for the DIY enthusiast seeking a quick and easy decor solution. The traditional wallpapers, on the other hand, provide a timeless appeal, while the commercial options are designed to withstand high-traffic areas.
Commitment to Eco-Friendly and Non-Toxic Wallpapers
What sets ONDECOR apart, however, is their unwavering commitment to eco-friendliness. They go the extra mile to ensure their wallpapers are not only stylish and durable but also safe for your home and the planet. Eco-friendly and non-toxic, their wallpapers are made with the well-being of your loved ones and the environment in mind.
ONDECOR also prides itself on its American-made quality, meaning each product adheres to strict manufacturing standards, supporting local businesses and contributing to a sustainable economy. Additionally, their excellent customer service team is always ready to assist with any inquiries, making your shopping experience enjoyable from start to finish.
In conclusion, when it comes to peel and stick flowers for walls, ONDECOR stands out as the go-to source for high-quality, eco-friendly options. By choosing ONDECOR, you're not only enhancing your living space but also making a positive impact on the environment.
Peel and Stick Floral Floor Tiles: An Extension of Wall Decor
As you elevate your walls with the beauty of nature, why stop there? Extend the floral charm to your floors with ONDECOR's peel and stick floral floor tiles. They offer a seamless way to harmonize your space and create an integrated, stylish look that's sure to impress.
Unique and Stylish Look with Floral Floor Tiles
Floral floor tiles bring a fresh and vibrant twist to traditional flooring. These peel and stick tiles, featuring intricate bohemian designs and a medley of colors, can instantly transform any room into a stylish sanctuary. For instance, ONDECOR's Blue Erina Peel and Stick Floor Tiles feature a beautiful mandala of blue florals, creating a free-spirited design that adds life and color to your flooring.
There's also the Charcoal Reo Peel and Stick Floor Tiles, which showcase a block print of charcoal-colored florals and geometrics for a more sophisticated, modern aesthetic. These floor tiles are not just visually appealing, but they also offer a convenient and cost-effective way to update your floors without the need for professional installation.
How to Apply Peel and Stick Floor Tiles
Applying peel and stick floor tiles is a breeze. Start by ensuring that your floor is clean, dry, and smooth. Then, peel off the backing from the tile and stick it onto the floor, pressing firmly for good adhesion. Continue this process, aligning each tile carefully with the previous one to ensure a seamless look.
If you need to reposition a tile, simply peel it off and re-stick it. And when it comes to removal, you can easily take them off without damaging your underlying floor. It's that simple!
With ONDECOR's peel and stick floral floor tiles, you can create a harmonious and stylish look that extends from your walls to your floors. So, why wait? Dive into the world of floral delights and let your creativity bloom!
Conclusion: Transform Your Space with ONDECOR's Peel and Stick Floral Delights
From accent walls to full room makeovers, adding floral designs to your space is now a breeze with ONDECOR's collection of peel and stick wall decals and floor tiles. Whether you prefer the vibrant colors of a wildflower meadow or the subtle elegance of a cherry blossom tree, ONDECOR's range of designs caters to all tastes and styles.
Our high-quality, eco-friendly wall decals allow you to bring the beauty of nature indoors without the hassle of traditional wallpaper or paint. With a simple peel and stick application, you can easily transform any room in your home. The options are endless, from creating a feature wall in your living room, adding a touch of color to your office, or designing a tranquil space in your bedroom.
For those wanting to make a bolder statement, our 3D peel and stick flowers offer a unique solution. With a little creativity and our easy-to-follow guides, you can create stunning 3D flower wall art that brings an added dimension to your decor.
But the floral fun doesn't stop at your walls. With ONDECOR's peel and stick floral floor tiles, you can even extend your decor to your floors, creating a harmonious and stylish look that permeates your entire space.
To top it all off, we're committed to sustainability and safety. Our wallpapers are non-toxic and eco-friendly, ensuring a safe environment for you and your loved ones. We also offer a convenient and secure online shopping experience, making it easier than ever to transform your space with our floral delights.
In conclusion, if you're looking to refresh your space with a touch of nature's beauty, ONDECOR's peel and stick floral delights are your go-to solution. So why wait? Transform your living space today with the floral charm of our peel and stick designs. It's time to let your walls (and floors) bloom with ONDECOR!