Transform Your Space with Abstract Removable Wallpaper
Introduction to Abstract Removable Wallpaper
Are you yearning to breathe new life into your space without breaking a sweat or the bank? Look no further than abstract removable wallpaper. This interior design solution is a game-changer, offering a hassle-free, affordable, and stylish way to personalize and transform your space. Whether you're a renter seeking a temporary aesthetic change or a homeowner looking for a quick decor refresh, abstract removable wallpaper is your ticket to a stunning home makeover.
Abstract removable wallpaper is a type of wall covering that combines the allure of abstract art with the convenience of removable adhesive. It's all about breaking away from the traditional and embracing the unconventional. These wallpapers feature artistic designs devoid of specific, recognizable objects or scenes, focusing instead on colors, shapes, and forms. The beauty of abstract designs is their versatility - they can evoke different feelings and interpretations, allowing you to create a unique atmosphere in your space.
At ONDECOR, we offer a wide variety of abstract removable wallpapers in an array of designs and color palettes. From minimalist geometric patterns to vibrant color explosions, our collection caters to various tastes and styles. But what sets our wallpapers apart is the quality and eco-friendliness. We ensure our wallpapers are made from high-quality materials that are safe for your home and the environment. Plus, shopping with us means you get to enjoy the convenience of online shopping, fantastic deals, and exceptional customer service.
Stay tuned as we delve deeper into the world of peel and stick wallpapers, explore their benefits, and guide you through the application and removal process. By the end, you'll be ready to transform your space with abstract removable wallpaper.
Understanding Peel and Stick Wallpaper
Step into a world of design freedom with peel and stick wallpaper. Offering an innovative solution to traditional wallpapers, this type of decor is particularly loved for its ease of use and versatility. Whether you're a seasoned DIY enthusiast or a beginner, it's time to roll up your sleeves and dive right into the transformation of your living space.
Does Peel and Stick Wallpaper Actually Come Off?
One of the most common questions about peel and stick wallpaper is whether it's genuinely removable. The answer is yes! This type of wallpaper is designed for easy application and removal, without causing any damage to your walls. It's a high-impact décor choice that allows you to add a splash of color and fun to any area of your home, and the best part? You can change it with the seasons or as your design tastes evolve.
How Long Will Peel and Stick Wallpaper Last?
Another important aspect to consider is the lifespan of peel and stick wallpapers. These wallpapers are not just easy to use, but they're also built to last. As long as the surface you apply it to is clean, smooth, and painted with the correct finish, your peel and stick wallpaper should last for as long as you'd like to keep it up.
Is There an Easy Removable Wallpaper?
If you're looking for an easy removable wallpaper, peel and stick is the way to go. It's as simple as peeling off the backing and sticking it to your wall. Removal is just as straightforward – pull up a corner and peel off to remove. It doesn't damage walls and removes cleanly, promising an easy, mess-free experience.
What Kind of Wallpaper is Easily Removable?
Most removable wallpaper is made from vinyl. This material offers numerous advantages. It's affordable, easy to apply and remove, and it's scrubbable, making it easy to maintain. Additionally, vinyl is moisture-resistant, which makes it a great choice for spaces like bathrooms or kitchens where humidity can be a challenge for other types of wall coverings.
Understanding the ins and outs of peel and stick wallpaper is the first step towards a successful DIY project. With this knowledge, you're better equipped to choose the right abstract removable wallpaper for your design project. Next, we'll explore the benefits of using abstract removable wallpapers, so stay tuned!
The Benefits of Using Abstract Removable Wallpaper
Abstract removable wallpaper is like a magic wand for your interior design projects. With the flick of your wrist (or in this case, the peel of a backing), you can instantly transform your space into a modern, vibrant, and dynamic environment. But the enchantment doesn't stop there. Let's delve into the key benefits of using abstract removable wallpaper.
Easy Installation and Removal
One of the greatest benefits of abstract removable wallpaper is its ease of installation and removal. As the name suggests, abstract peel and stick wallpapers are designed for smooth application and hassle-free removal. This makes them an ideal choice for renters or those who love to frequently change their decor. And if you're worried about damaging your walls, don't be. These wallpapers are gentle on surfaces and leave no sticky residue behind, making them a practical and stylish solution for transforming your walls with minimal effort and maximum impact.
Variety of Designs and Patterns
Another advantage of abstract removable wallpaper is the variety of designs and patterns available. With abstract wallpapers, you can choose from a wide range of styles, from bold and vibrant patterns to subtle and minimalist compositions. Whether you prefer geometric shapes, a minimal color palette, or a sense of spaciousness, there is an abstract wallpaper to suit your taste. You can opt for colorful abstract wallpapers to infuse your space with positivity and creativity or cool abstract wallpapers for a calming and soothing atmosphere. There's also the option of green, pink, or red abstract wallpaper depending on the mood and theme you want to set for your space.
Eco-friendly and Non-toxic
The last but certainly not least benefit is that abstract removable wallpapers are eco-friendly and non-toxic. They are made from vinyl, which is a material known for its affordability and durability. But more importantly, it's a safe choice for your home. The wallpapers are free from harmful chemicals, ensuring a healthy and safe environment for you and your loved ones. Moreover, they are scrubbable and moisture-resistant, making them easy to maintain and long-lasting.
In conclusion, abstract removable wallpapers not only offer a quick and easy way to revamp your space, they also provide a safe and eco-friendly solution for your interior design needs. With a wide range of designs and the ease of installation and removal, you can effortlessly transform your walls and express your personal style. In the next section, we'll take you through some of the top abstract removable wallpaper designs from ONDECOR, so keep reading!
Top Abstract Removable Wallpaper Designs from ONDECOR
The world of abstract removable wallpaper is vast and varied, filled with an array of colors, patterns, and styles. At ONDECOR, we curate a selection of top-quality designs to help you bring your vision to life. Let's explore some of the standout abstract removable wallpaper designs available in our collection.
Embrace the fusion of art and mathematics with our Geometric Abstract Wallpaper. These designs feature bold, intricate patterns that stimulate the mind and capture the eye. They are ideal for creating a modern, sophisticated space and come in a range of vibrant or more muted color palettes to suit your preference.
Floral Abstract Wallpaper
Our Floral Abstract Wallpaper collection offers a modern twist on traditional floral patterns. These designs blur the line between the natural and the abstract, with stylized representations of flowers, leaves, and other botanical elements. Floral abstract wallpaper is perfect for adding a touch of nature-inspired beauty to any room, from the living area to the bedroom.
For those who prefer a contemporary aesthetic, our Modern Abstract Wallpaper is an excellent choice. Characterized by minimalist designs, bold color contrasts, and clean lines, this style offers a sleek and stylish way to update your space. Whether you are looking to create a feature wall or transform an entire room, modern abstract wallpaper provides a visually captivating solution.
Classic Abstract Wallpaper
If you're a fan of timeless designs, our Classic Abstract Wallpaper collection might be just what you're looking for. These designs take inspiration from the abstract art movement, featuring bold shapes, intriguing textures, and a rich mix of colors. Classic abstract wallpaper is perfect for those who appreciate the artistry and emotional expression of abstract art.
Bohemian Abstract Wallpaper
Last but not least, our Bohemian Abstract Wallpaper designs offer a laid-back, artistic vibe. These wallpapers feature relaxed, free-form patterns and a warm, earthy color palette. They're perfect for creating a cozy, inviting space that reflects your unique personality and style.
At ONDECOR, we're passionate about helping you create a space that feels uniquely yours. No matter your style or preference, we're confident that our collection of abstract removable wallpaper has the perfect design for you. So why wait? Start exploring our range today and transform your space into a work of art!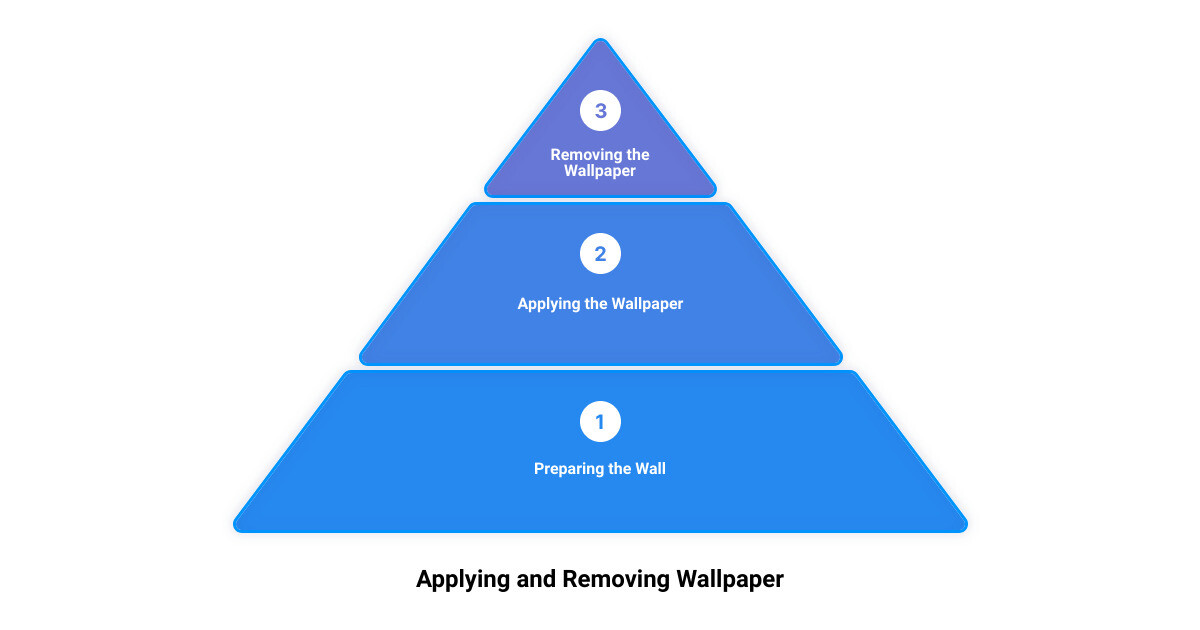 How to Apply and Remove Abstract Removable Wallpaper
Transforming your space with abstract removable wallpaper from ONDECOR is as simple as one, two, three. Our peel-and-stick wallpapers are designed for easy application and removal, saving you the cost and hassle of professional installation. Let's take a look at how you can apply and remove our wallpapers in just a few steps.
Preparing the Wall for Application
Before you get started, prepare your wall to ensure a smooth and successful application. Clean your wall with a damp cloth, removing any dust or particles that could interfere with the wallpaper's adhesion. Make sure the wall is dry and smooth. If your wall is painted, it's important that the paint finish is appropriate for peel-and-stick wallpapers.
Applying the Wallpaper
With your wall ready, it's time to apply your abstract peel-and-stick wallpaper. Start from the top of your wall, gradually peeling off the backing as you stick the wallpaper onto the wall. Use a smoothing tool to get rid of any air bubbles and ensure a flat and seamless finish. Continue this process, matching the pattern as you move along the wall. Our wallpapers come in various widths and lengths, so you can choose the size that best fits your wall.
Removing the Wallpaper
One of the biggest advantages of our removable wallpapers is their easy removal. When it's time for a change, simply start at a corner and gently peel off the wallpaper. Rest assured, our wallpapers are designed to leave no residue and won't damage your walls. This feature makes our abstract removable wallpaper an excellent choice for renters or those who love to change their decor frequently.
At ONDECOR, we believe in making your decorating experience as enjoyable and hassle-free as possible. With our abstract removable wallpapers, you have the flexibility to experiment with different styles, safe in the knowledge that you can change things up whenever you choose. So go ahead, express your creativity and make your walls a canvas for your abstract art!
Shopping for Abstract Removable Wallpaper with ONDECOR
Taking your home decor to the next level is just a few clicks away, thanks to ONDECOR's user-friendly online shopping experience. From our diverse range of abstract removable wallpapers to our unbeatable prices, ONDECOR is your one-stop-shop for all your wallpaper needs.
Online Shopping Experience
ONDECOR has simplified the art of shopping for abstract removable wallpaper. Our intuitive website allows you to browse wallpapers by category, style, and even popular choices. Whether you prefer geometric, floral, modern, classic, or bohemian abstract designs, you'll find an array of options to choose from. Each product page on our site provides detailed information about the wallpaper, including its specifications and how to apply and remove it. This ensures that you're fully informed about your purchase before making a decision.
Special Offers and Deals
At ONDECOR, value and quality go hand in hand. We frequently offer special deals and discounts on our products, making it even more cost-effective to refresh your space with our abstract removable wallpaper. We're committed to providing high-quality wallpapers at prices that won't break the bank. So, whether you're revamping your entire home or just updating a single room, you can do so without worrying about overspending.
Customer Support and Services
ONDECOR's commitment to exceptional customer service sets us apart. With thousands of satisfied customers worldwide, our track record speaks for itself. We're here to answer any questions you might have, assist with tracking your order, and provide helpful resources such as our Wallpaper Calculator and How-to Guides. Our dedicated customer support team goes above and beyond to ensure your shopping experience is smooth and enjoyable.
Additionally, we're proud to offer a range of B2B programs for trade and retailers, further extending our services to meet diverse customer needs.
Transforming your space with abstract removable wallpaper has never been easier or more affordable. Start shopping with ONDECOR today and discover how our wallpapers can breathe new life into your home.
Conclusion: Transform Your Space with Abstract Removable Wallpaper
From the comfort of your own home, you can create an environment that radiates sophistication, creativity, and individuality. Abstract removable wallpaper offers the perfect solution for homeowners looking to inject a sense of artistic intrigue into their spaces. Whether you're drawn to the calming tones of cool abstract wallpapers, the bold energy of red abstract wallpaper, or the playful charm of pink abstract wallpaper, ONDECOR has a design to suit your style.
Experience the convenience of peel and stick wallpaper. Its easy application and removal process makes it ideal for those who enjoy changing their decor frequently or for renters who need to return their walls to their original state. With an array of designs to choose from, including geometric, floral, modern, and classic abstract patterns, you're sure to find a wallpaper that speaks to your aesthetic preferences.
Take advantage of ONDECOR's online shopping experience, which offers a seamless and convenient way to browse through a wide variety of wallpaper designs. Whether you're looking to transform your living room, kitchen, or bedroom, we have a wallpaper design that will match your vision. Plus, our special offers and deals make it even more affordable to refresh your home decor.
At ONDECOR, we understand that customer support is critical to your shopping experience. That's why we offer a robust customer support system to help you navigate your purchasing decisions. From measuring your wall to tracking your order, our team is ready to assist you every step of the way.
Choosing abstract removable wallpaper from ONDECOR is more than just a purchase—it's a step towards transforming your living environment into a visually stunning and unique haven. Start your journey today and experience the difference that our high-quality, eco-friendly wallpapers can make in your home.