Transform Your Space with a Peel and Stick Beach Mural: Unleash the Serenity of the Shore
You've always been drawn to the beach. The hypnotic ebb and flow of the waves, the warm sand under your feet, the vibrant hues of the sunset painting the sky - these moments of tranquillity and serenity have a unique allure. But what if you could capture this feeling and bring it into your home? Peel and stick beach murals from ONDECOR give you the power to do just that.
Transform your space into your personal seaside retreat with our breathtaking beach-themed wall murals. These easy-to-apply wall decors let you unleash the serenity of the shore right in your living room, bedroom, or workspace. Whether you fancy the cozy seaside towns of Cape Cod, the lively shorelines of Jersey, or the mesmerizing crystal blue seas of the Caribbean, you'll find a mural that resonates with your beachside memories.
ONDECOR's peel and stick beach murals are more than just wallpapers. They're an affordable and hassle-free way to create immersive, stunning environments that evoke your favorite seaside moments. Best of all, you can install them yourself without the need for messy glue or hiring a contractor.
Ready to dive in and explore the magic of peel and stick beach murals? Let's get started.
The Appeal of Beach-Themed Wall Murals
There's something undeniably captivating about the beach. The endless horizon where the sky meets the sea, the rhythmic ebb and flow of the waves, and the warm sand beneath your feet create an atmosphere of peace and tranquility that's difficult to replicate. This is where beach-themed wall murals come into play. They offer a fantastic way to bring the serenity of the shore into your living space, regardless of your geographic location or the season.
Imagine having a breathtaking view of Maui's sunset, the crystal blue waters of the Caribbean, or the lively shorelines of Jersey right in your home or workspace. That's the magic of beach-themed wall murals. They transport you to your favorite seaside destinations, allowing you to experience the beach's calming allure every single day.
These murals also add a unique aesthetic appeal to your space. Whether it's a panoramic view of a tropical island paradise or a serene beach at sunset, these murals become a beautiful focal point that adds depth and interest to your room. They can transform an ordinary wall into an extraordinary display of artistry, adding a touch of sophistication and elegance to your decor.
Moreover, beach-themed wall murals are a versatile decor option. They can fit seamlessly into a broad range of interior styles, from the laid-back coastal vibe to the clean lines of modern minimalism. Whether you are decorating your living room, bedroom, home office, or even a commercial space like a vacation planning office or juice bar, a beach mural can infuse a sense of relaxation and rejuvenation.
Aside from their aesthetic appeal, beach murals can also have a profound impact on your mood and well-being. Research suggests that exposure to natural scenery, even in the form of images, can have a soothing effect, reduce stress, and increase feelings of happiness. So, by bringing the beach inside, you're not just enhancing your space's visual appeal, but also creating an environment that promotes peace, calm, and positivity.
In the next section, we'll look at why you should consider peel and stick wall murals for your beach-themed transformation.
Why Choose Peel and Stick Wall Murals
Imagine transforming your space into a serene coastal paradise without the mess of wallpaper glue or the commitment of traditional wall coverings. Peel and stick wall murals make this dream a reality. They offer a host of benefits that make them the ideal choice for busy homeowners looking to breathe new life into their living spaces.
Ease of Application
One of the main advantages of peel and stick wall murals is their ease of application. Unlike traditional wallpaper that requires paste and a lot of patience, peel and stick murals are exactly as the name implies: you simply peel off the backing and stick the mural onto your wall. This makes them perfect for those who prefer a DIY approach to home decor.
Versatility
Peel and stick murals offer unmatched versatility. Want to change the atmosphere in your room from a tropical beach sunset to a peaceful ocean wave scene? With peel and stick, you can do so without any hassle. You can easily remove and replace the murals without damaging your walls, giving you the freedom to change your decor as often as you'd like.
Durability and Maintenance
Despite their simplicity, peel and stick murals are incredibly durable. They are resistant to moisture and can be wiped clean, making them a practical choice for kitchens, bathrooms, or children's rooms.
Cost-Effective
In addition to their practical benefits, peel and stick murals are typically more cost-effective than traditional wall coverings. This makes them a great option for those looking to make a big impact on a small budget.
Non-Damaging
Perhaps one of the biggest selling points of peel and stick wall murals is that they are non-damaging. Unlike traditional wallpaper, which can peel paint or leave residue when removed, peel and stick murals can be taken down without leaving a trace. This makes them an excellent choice for renters or anyone who may need to remove their wall decor in the future.
In summary, peel and stick beach murals offer an easy, affordable, and non-permanent way to bring the serenity of the beach into your home. In the next section, we'll guide you on how to install your ONDECOR peel and stick beach mural.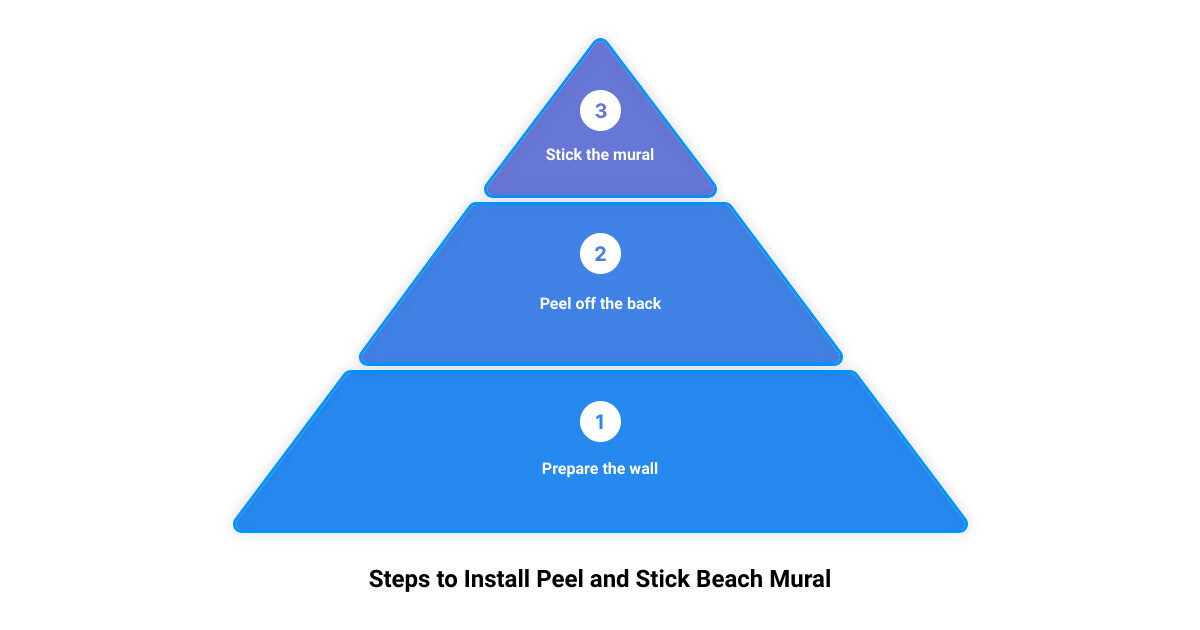 How to Install Your Peel and Stick Beach Mural
Installing your peel and stick beach mural from ONDECOR is as easy as a day at the beach! No need for professional installers or messy adhesives. With a few simple steps, you can bring the calming ambiance of the beach into your space. So, let's dive into the installation process.
Step 1: Prepare Your Wall
Before you start, ensure your wall is clean and dry. Dust, dirt, or moisture can interfere with the adhesive backing of the mural. Use a mild soap and water solution to clean the wall surface and let it dry completely.
Step 2: Measure and Cut
Next, measure your wall accurately. Using a measuring tape, determine the width and height of the area you want to cover. ONDECOR offers various sizes of murals to cater to different wall dimensions, so you can be sure you'll find the perfect fit.
Step 3: Peel the Backing Paper
Starting from the top of your mural, peel off a portion of the backing paper. Make sure not to remove all the backing at once to avoid the mural sticking to itself.
Step 4: Apply the Mural
Align the mural with the top of your wall and press it against the surface. Smooth it out as you go, removing any air bubbles with a squeegee or credit card. If you make a mistake, don't worry! The beauty of peel and stick murals is that you can easily remove and reposition them without damaging your wall or the mural.
Step 5: Enjoy Your Beach View
Once your mural is in place, step back and enjoy your new beach view.
Remember, if you need any further assistance, ONDECOR offers a range of support options, including installation guides and the opportunity to track your order. You can also contact their customer service for any additional queries.
With ONDECOR's peel and stick beach murals, you can transform your space into a serene beachfront getaway with ease. In the next section, we'll explore the wide range of beach mural designs available from ONDECOR.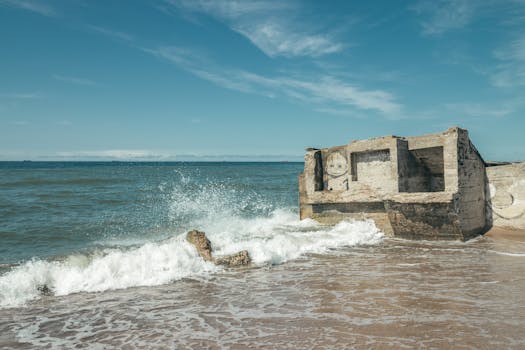 Exploring ONDECOR's Range of Peel and Stick Beach Murals
Dive into the calming waves of ONDECOR's extensive collection of peel and stick beach murals. Each mural is crafted to transport you to a tranquil beach, making you feel as if you're lounging on the sand and soaking up the sun from the comfort of your home.
Vast Array of Beach Themes
ONDECOR's beach mural collection offers a variety of themes, from serene sunsets to playful surfboards. The Sunset Beach Wall Decal offers a picturesque depiction of the sun setting over the ocean, casting a warm, golden glow. For surf enthusiasts, the Surfboard Wall Art presents a vibrant display of surfboards in tropical Hawaii, perfect for adding a fun, coastal vibe to your space.
For a more peaceful ambiance, consider the Seaside Peaceful Beach View Peel and Stick Mural. This mural captures a tranquil beach scene, framed beautifully to give the impression of gazing out of a window to an idyllic coastal view.
Unique Artistic Styles
ONDECOR's beach murals are not just limited to realistic depictions. You can also find a variety of artistic styles to suit your personal taste. The Oil Painting Nautical Wallpaper features vintage sailing and ship prints, offering a rustic touch to your beach theme. For a more abstract style, the Ocean Wave Wall Decals offer a unique interpretation of waves.
Sizes and Prices to Fit Every Budget
ONDECOR offers a range of sizes and prices to accommodate your specific spatial requirements and budget. For instance, the Sunset / Beach Wall Mural is available at a discounted price of $44.99, while the Surfboard Wall Art is priced at an affordable $12.15.
What's more, all ONDECOR's peel and stick beach murals come with free shipping, ensuring you get your mural delivered to your doorstep without any additional costs.
So whether you're looking to create a tropical paradise in your living room or want to add a touch of coastal charm to your bedroom, ONDECOR's selection of peel and stick beach murals has you covered. In the next section, we'll discuss how you can customize your beach mural with ONDECOR.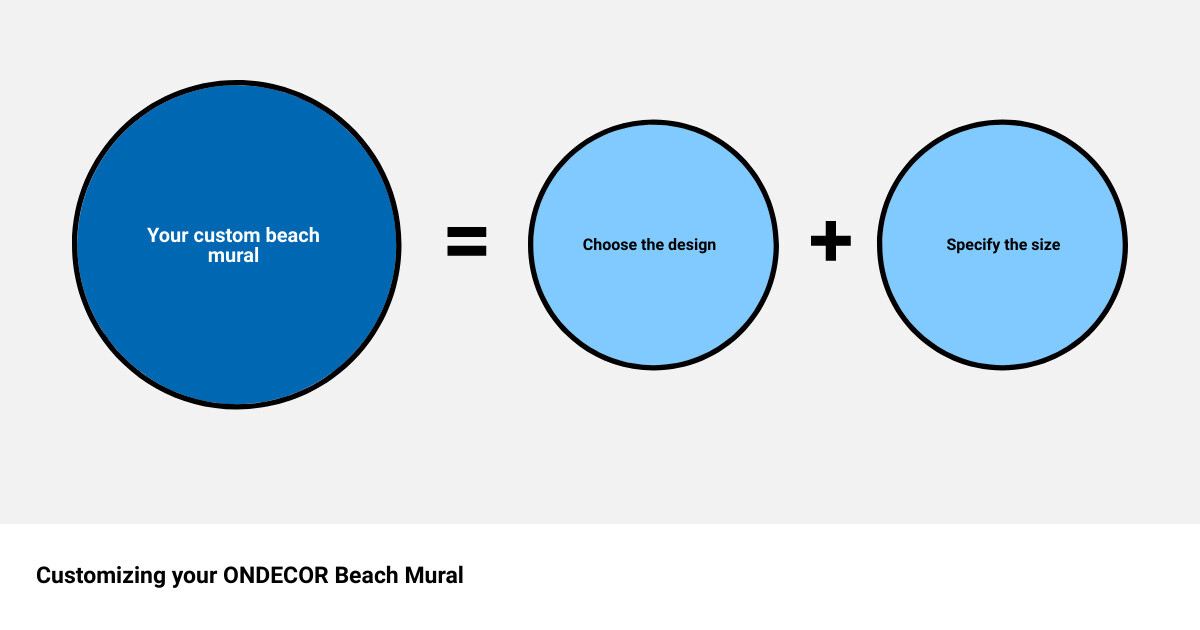 Customizing Your Beach Mural with ONDECOR
Immerse yourself in the endless possibilities of personalization offered by ONDECOR. We understand that each individual and space is unique; hence we offer custom beach mural designs that cater to your specific vision and style. From serene sunset beaches to lively tropical paradises, your dream beach mural is just a click away.
Your Picture, Your Mural
Have a favorite beach memory you'd like to relive every day? ONDECOR makes it possible. You can design your own beach mural oasis using a cherished photograph or artwork of your favorite beach. All you need to do is upload your image using our custom mural option, and voila! Before you know it, you'll be looking at your custom beach wall mural, waiting for installation in your chosen place of honor.
Easy Installation
Worried about the installation process? Rest easy. ONDECOR's peel and stick beach murals are designed for effortless application. Say goodbye to the mess of glue or paint, and the hassle of hiring a contractor. Our murals are perfect for the DIY enthusiast, enabling you to transform your space at your own pace.
Safe for Your Walls
Apart from customizability and easy installation, ONDECOR murals come with another significant advantage- they are safe for your walls. Our beach murals are affordable art options that won't damage your walls and can be repositioned multiple times. This makes it easy for you to move with your mural as your life and home change.
The ONDECOR Experience
At ONDECOR, we're dedicated to helping you bring your vision to life. Our FAQ page provides additional information about customizing your mural, the installation process, and how our murals interact with your walls.
When it comes to personalizing your space, ONDECOR provides limitless possibilities. Our range of peel and stick beach murals, coupled with the option of customization, offers you the opportunity to create a unique and serene beach-themed space. Don't just dream about the beach—bring it to life with ONDECOR!
The Quality and Sustainability of ONDECOR's Wallpapers
When we speak of quality, it's not just a buzzword at ONDECOR. It's a core tenet of our brand identity and an integral part of the products we offer. As you explore our range of peel and stick beach murals, you'll experience the uncompromising quality we infuse in every print.
We're proud to say that all our wallpapers are crafted right here in the USA. This not only ensures adherence to strict manufacturing standards but also means you're supporting local businesses and contributing to a sustainable economy. What's more, our wallpapers are designed to arrive in pristine condition, ready for installation, thanks to our commitment to fast and secure shipping.
But what about sustainability, you might ask? At ONDECOR, we believe in doing our bit to protect the planet. That's why our selection of wallpapers is eco-friendly and non-toxic. Whether you're transforming your living room, bedroom, or office with our peel and stick beach murals, you can rest assured that you're making a choice that's safe for both your home and the environment.
Our dedication to the environment extends beyond just our products. We also offer a Global Free Shipping policy, which promotes a more sustainable shipping process by reducing carbon emissions. Whether you're in the USA, Canada, Mexico, or anywhere else in the world, you can enjoy seamless delivery.
In summary, when you choose ONDECOR, you're not just choosing a wallpaper. You're choosing a product that is lovingly made, responsibly sourced, and crafted with the utmost attention to quality and sustainability. So why wait? Unleash the serenity of the shore with our peel and stick beach murals today!
Customer Reviews and Experiences with ONDECOR
When it comes to customer experiences and reviews, ONDECOR stands tall with a plethora of positive feedback. Customers are continually thrilled with the quality of products, the prompt delivery, and the outstanding customer service offered by the ONDECOR team.
Rachelle, a happy ONDECOR customer, gave a glowing review for the Wave Wall Decal. She was all praises for the customer service, mentioning how the team helped her find the best dimensions, provided mock-ups, and made suggestions that worked perfectly for her. The decal added a beach theme to her room, creating a soothing environment that she absolutely loved.
Lexi Nelson, another satisfied customer, found joy in her Neutral Ocean Surf Wallpaper. She appreciated how the nursery accent wall turned out, enhancing the overall look of the room. Similarly, Randi Muller was impressed with the fast shipping and the beautiful outcome of the Blue Sea Ombre Removable Wallpaper Wall Decal.
Among the rave reviews, Hayley Mitchell admired the Nautical Wall Decal, calling it a "really lovely" addition to her wall. She found it very easy to apply and highly recommended it to others.
ONDECOR's Beach Stickers 3D Window Wall Decal also received a five-star rating from Ellie Mason, who found it beautiful and a great enhancement for her wall. Mark, another satisfied buyer, was delighted with the Beach Wall Sticker 3D Window Effect View Wall Decal, stating that it "looks just as expected" and sticks on the wall just like he had hoped.
These reviews are just a glimpse of the satisfaction experienced by ONDECOR customers. They highlight not only the quality and beauty of the products but also the exceptional customer service that ONDECOR is known for. When you choose ONDECOR, you can expect a seamless shopping experience, backed by a team that goes the extra mile to ensure your satisfaction. Whether it's helping you find the perfect mural or answering your queries promptly, ONDECOR always puts the customer first.
However, don't just take our word for it. Explore the photo reviews on ONDECOR's website and see for yourself how our peel and stick beach murals have transformed countless spaces, bringing the serenity of the shore into homes around the world.
Conclusion: Transform Your Space Today with ONDECOR's Peel and Stick Beach Murals
The time for daydreaming is over. Let's transform your space into a coastal haven today with ONDECOR's peel and stick beach murals. Bringing the beach to your home has never been simpler, or more beautiful. The soothing colors, the picturesque scenery, and the sense of calm that a beach mural brings can be yours in just a few clicks.
Peel and stick beach murals are more than just decoration. They're an escape, a personal sanctuary, a reminder of cherished memories, and a promise of adventures to come. So why wait? Whether it's a living room that needs a touch of coastal charm, a home office that needs a serene backdrop, or a bedroom that could benefit from a sunset view, ONDECOR's range of beach murals is the perfect solution.
With ONDECOR, you can trust that you're not only getting a high-quality product but also contributing to a sustainable future. Our peel and stick murals are eco-friendly, easy to install, and designed to last, making them a smart choice for both your home and the planet. Plus, with our customization options, you can truly make your mural a one-of-a-kind piece of art.
Don't let the beach remain a distant memory or an infrequent getaway. Invite the beach into your home and let the waves, sand, and sun become part of your daily life. Explore our vast assortment today and discover the ideal mural for your space. Because with ONDECOR, your vision of perfect décor is just one click away.
Thank you for choosing ONDECOR. We're excited to help you bring your dreams to life, one peel and stick beach mural at a time.