Revolutionize Your Walls with Wall Pops NuWallpaper: Unleash the Ultimate Transformation
Get ready to take your home decor to the next level. Whether you're a homeowner looking to spruce up your walls or a renter wanting a temporary yet stylish solution, Wall Pops NuWallpaper is about to become your new best friend. This innovative product offers a quick, easy, and affordable way to transform any room, allowing you to fully express your unique style.
Created by WallPops®, NuWallpaper is a peel and stick wallpaper that's designed for the modern homeowner. This revolutionary wallpaper makes it possible to change the look of your walls in minutes, without the need for professional installation or the mess of traditional wallpaper. Made from a premium substrate, it's completely removable and won't damage your walls. This means that you can change your decor as often as you like, without any commitment or risk of damage.
The versatility of NuWallpaper also extends to its design options. From animal themes to floral designs, geometric patterns to collaborative designs by renowned designers like Loveshackfancy and Leah Duncan, there's something to suit every taste. Whether you prefer a bohemian, coastal, eclectic, farmhouse, modern, Scandinavian, traditional, tropical, or vintage style, you're bound to find a NuWallpaper design that resonates with you.
But the benefits of NuWallpaper go beyond its aesthetic appeal and ease of use. This wallpaper is also a great choice for the environmentally conscious homeowner. It's made from eco-friendly materials, ensuring that your home decor doesn't come at the expense of our planet.
Intrigued? Stay tuned as we delve deeper into the world of Wall Pops NuWallpaper, exploring its benefits, practical applications, and customer reviews. We'll also provide a step-by-step guide on how to apply and remove this innovative wallpaper, helping you to unleash the ultimate transformation in your home.
Understanding the Benefits of Peel and Stick Wallpaper
Peel and stick wallpaper, such as Wall Pops NuWallpaper, offers a plethora of advantages that make it an attractive choice for homeowners seeking to revamp their spaces. A hassle-free and cost-effective solution, this type of wallpaper brings a whole new level of convenience to home décor, making it a popular choice among busy homeowners. So, what makes peel and stick wallpaper stand out?
Does Peel and Stick Wallpaper Really Not Damage Walls?
One of the most common concerns when it comes to wallpaper is its potential to damage walls. When you use peel and stick wallpaper, you can rest assured that your walls will remain in good condition. The adhesive used in these wallpapers will not absorb into the paint, ensuring that the product will not damage the surface upon removal. However, it's important to note that the paint may peel off with the wallpaper upon removal. To avoid this, apply the wallpaper to a surface that has a sheen, which prevents the adhesive from absorbing into the paint.
Is Peel & Stick Wallpaper Any Good?
Peel and stick wallpaper, such as Wall Pops NuWallpaper, is a high-quality product that adheres well to most surfaces, transforming even the most mundane rooms into vibrant spaces. It offers a quick and easy installation process, negating the need for messy glue or professional assistance. All you need to do is simply peel off the backing and stick the wallpaper onto your desired surface. While it works well in most scenarios, ensure that the surface you're applying it to is one that the adhesive can stick to effectively.
Is Peel and Stick Wallpaper Bad for a Bathroom?
Contrary to popular belief, peel and stick wallpaper is an excellent choice for bathrooms. Given its low-tack self-adhesive backing, it's easy to remove when the time comes. But the real value for bathrooms lies in its 100-percent vinyl composition. With no paper content to degrade or develop mold, peel-and-stick wallpaper is ideal for high-moisture environments like full baths. This makes it a practical choice that ensures long-lasting beauty and durability.
What Wallpaper Does Not Destroy Walls?
If you're worried about your wallpaper damaging your walls, Wall Pops NuWallpaper is the answer. This peel and stick removable wallpaper doesn't damage walls and removes cleanly. All you have to do is pull up a corner and peel off to remove - it's that easy. It's designed to offer an effortless transformation, allowing you to revamp your room without any worry about wall damage.
In a nutshell, peel and stick wallpaper provides a convenient and cost-effective solution for transforming your space, ensuring minimal damage to your walls. With a wide range of designs available, this type of wallpaper opens up endless possibilities for creating a stylish and personalized environment.
Exploring the Range of Wall Pops NuWallpaper Designs
Reinvent your indoor spaces with the incredible range of designs offered by Wall Pops NuWallpaper. From the whimsical allure of animal themes to the elegant sophistication of geometric patterns, Wall Pops NuWallpaper gives you the power to perfect your space with your style. The company also collaborates with renowned designers, ensuring a unique and high-quality selection of wallpapers. Each design is crafted to bring a distinct personality to your living space while maintaining the ease-of-use that Wall Pops NuWallpaper is known for.
Animal Themes
Unleash your wild side with Wall Pops NuWallpaper's fantastic range of animal-themed wallpapers. These designs can be a fun and engaging addition to children's rooms or nurseries, where they add a touch of whimsy and stimulate their imagination. Animal themes aren't limited to children's spaces, though; they can also bring a refreshing charm to any room in your house.
Floral Designs
Immerse yourself in a world of blooming beauty with Wall Pops NuWallpaper's floral designs. These designs range from subtle botanical patterns to bold floral explosions, offering a design for every taste. Floral wallpapers can evoke a sense of nostalgia and charm, creating a cozy and inviting atmosphere in any room.
Geometric Patterns
If you're seeking a modern and minimalist look, Wall Pops NuWallpaper's collection of geometric patterns is the way to go. These designs can add visual interest without overwhelming the space, striking a perfect balance between simplicity and sophistication. Whether it's a subtle pattern for a sleek look or a bold design that serves as a focal point, there's a geometric pattern for every vision.
Collaborations with Designers
Wall Pops NuWallpaper stands out with unique designs stemming from collaborations with top designers. For instance, they've teamed up with the likes of Egypt Sherrod, Jen Hewett, and more to create stunning wallpaper designs. These collaborations result in a unique blend of styles, ensuring that there's a wallpaper to match every individual's unique aesthetic.
The beauty of Wall Pops NuWallpaper lies in its wide range of designs, allowing you to find the perfect wallpaper for any space. Whether you are looking to create a calming nursery, a vibrant living room, or a relaxing bedroom retreat, Wall Pops NuWallpaper has a design to help you achieve your vision.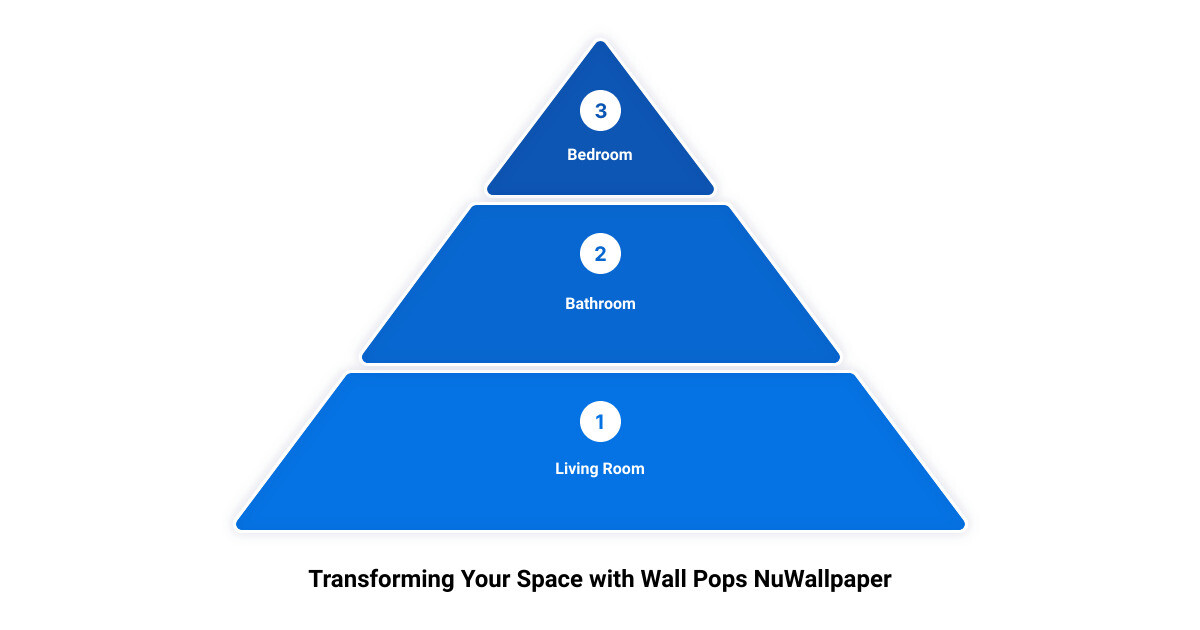 Practical Applications of Wall Pops NuWallpaper
Ready to bring a new vibe to your home? Wall Pops NuWallpaper offers a plethora of design possibilities that can revolutionize your living spaces. Let's dive into how you can use Wall Pops NuWallpaper to transform different rooms in your home.
Transforming Your Living Room
The living room is your space to unwind and entertain guests. Wall Pops NuWallpaper can turn this area into a visually stunning space that reflects your personality. Consider using a bold, colorful wallpaper design to create a dynamic contrast if your furniture is neutral. Alternatively, if your furniture already has bold colors, opt for a subtle wallpaper with a muted color palette to balance it out. NuWallpaper's floral, geometric, or animal-themed designs can add a unique touch to your living room, making it a true reflection of your style.
Don't be afraid to experiment with different designs until you find one that resonates with your aesthetic. And remember, with Wall Pops NuWallpaper, you can easily switch up your wallpaper whenever you want a fresh look!
Revamping Your Bathroom
Your bathroom should be a personal retreat that combines style and functionality. Tile bathroom wallpapers from Wall Pops NuWallpaper can help you create a spa-like ambiance. Opt for mosaic patterns or marble-inspired textures to add sophistication and elegance to your bathroom walls.
The moisture-resistant properties of this wallpaper make it a practical choice for humid environments, ensuring long-lasting beauty and durability. Whether you prefer a sleek, contemporary look or vintage-inspired charm, the options are endless with Wall Pops NuWallpaper.
Creating a Feature Wall in Your Bedroom
Your bedroom should be your sanctuary, a place where you can relax and rejuvenate. Wall Pops NuWallpaper can help you create a feature wall that stands out and sets the mood for your entire room.
Choose from a wide range of styles, from bohemian to scandinavian or vintage, to match your personal taste. You can also explore the designer collaborations with the likes of Loveshackfancy, Egypt Sherrod, or Jen Hewett for unique and exclusive designs.
By creating a feature wall, you can make a bold statement without overwhelming the space. And the best part? If you decide to change the mood or color scheme of your bedroom, you can easily peel off the wallpaper and start anew.
In essence, Wall Pops NuWallpaper opens a world of design opportunities, allowing you to create stylish living spaces that are uniquely yours. Whether you're transforming your living room, revamping your bathroom, or creating a feature wall in your bedroom, this peel and stick wallpaper is your ticket to a hassle-free home makeover.
Breathe new life into your spaces with Wall Pops NuWallpaper. The application process is as simple as peel and stick, making it a perfect choice for DIY enthusiasts. Here's your step-by-step guide to transforming your walls effortlessly.
Preparing Your Walls
Before you set out on your wallpapering adventure, it's crucial to prepare your walls. Start by removing any existing wallpaper and ensuring the surface is clean, dry, and smooth. If there are cracks or uneven surfaces, consider filling them in and sanding them down for a smooth finish. This preparation ensures the NuWallpaper adheres properly and provides a seamless result.
Applying the Wallpaper
With your walls ready, it's time to apply your chosen Wall Pops NuWallpaper. Begin by measuring and cutting the wallpaper to fit your wall. Each roll typically comes in a 20.5 in x 18 ft size, but you can easily customize it to fit your space.
Peel off the backing and stick the wallpaper onto the wall, starting from the top and working your way down. Smooth out any bubbles as you go along, either with your hands or a smoothing tool. The beauty of NuWallpaper is that it's repositionable, meaning you can easily adjust it if you make a mistake or if it's not perfectly aligned.
Removing the Wallpaper
One of the standout features of Wall Pops NuWallpaper is its removable quality. If you ever decide to change up your decor or move houses, you can easily peel off the wallpaper without damaging your walls. Simply start at one corner and gently peel it off, leaving no sticky residue behind.
The ease of application and removal makes Wall Pops NuWallpaper an excellent choice for renters or those who love to frequently refresh their home decor. It provides a hassle-free, non-permanent solution to achieving a stylish home makeover.
In the words of one satisfied customer, Elizabeth, "Looks like real wood and was super easy to install, even over my orange peel texture walls." So why not give it a try? With Wall Pops NuWallpaper, you can effortlessly revamp your space and express your personal style.
One of the best ways to get a feel for a product is by hearing from those who have used it. When it comes to Wall Pops NuWallpaper, customer reviews and experiences can provide invaluable insights.
Positive Reviews
Users have consistently praised the quality and aesthetic appeal of Wall Pops NuWallpaper. "The wallpaper looks AMAZING. I get so many compliments on it. I used it in our AirBNB and guests fall in love with it. I couldn't be happier," stated a delighted customer, Sarah.
Another user, Sophia, used the peel and stick wallpaper for a DIY project on her IKEA IVAR storage and was thrilled with the results. "Bought this to use on my IKEA IVAR storage DIY and it OVER delivered! Super easy to apply, it doesn't come with a press to help it lay flat so I used a credit card and had just one tiny bubble that is hidden by the print. Will definitely buy from here again!" she said.
Negative Reviews
While we strive to provide the best products and services, it's important to note that not every customer experience has been positive. We're transparent about these instances and constantly working to improve our products. As of now, no negative reviews have been reported.
Tips and Tricks from Customers
When it comes to applying Wall Pops NuWallpaper, customers have shared some handy tips and tricks. Sophia, who used the wallpaper for her DIY project, suggested using a credit card to help lay the wallpaper flat during the application. This simple tip can help ensure a smooth and bubble-free finish.
Another tip from customers is to consider the room and the surface where you are applying the wallpaper. While Wall Pops NuWallpaper is versatile and can be used in various settings, certain specific surfaces or areas may require additional preparation or care during application.
In conclusion, customer reviews and experiences highlight the high-quality, ease of application, and transformative potential of Wall Pops NuWallpaper.
Conclusion: Unleashing the Ultimate Transformation with Wall Pops NuWallpaper
Revolutionize your walls and unleash the ultimate transformation with Wall Pops NuWallpaper. As we've navigated through the nuances of this outstanding peel and stick wallpaper, it's clear that NuWallpaper offers a transformative solution for your home decor needs. Whether you're looking to create a statement piece with a modern mural wallpaper design or bring a touch of personality to your space with an animal, floral, or geometric pattern, Wall Pops NuWallpaper has you covered.
This wallpaper solution stands out not just for its vast array of designs and collaborations with renowned designers but also for its practical features. It's easy to apply, and its peel-and-stick mechanism ensures it doesn't damage your walls. Plus, it's versatile enough to be used in various settings, including bathrooms, without any concerns about moisture damage.
Moreover, the experiences of customers underline the transformative potential of Wall Pops NuWallpaper. It's a hit among homeowners who value high-quality materials, a wide range of design options, and the convenience of shopping online. You'll find that many users rave about the ease of application, the durability of the wallpaper, and, most importantly, the remarkable transformation it brings to their living spaces.
So, if you're keen to spruce up your interior decor, why settle for ordinary when you can opt for extraordinary? With Wall Pops NuWallpaper, you're not just applying wallpaper, you're creating a fresh, vibrant atmosphere that reflects your style. It's time to revolutionize your walls and create spaces that truly feel like home.
Remember, the ultimate transformation of your living spaces is only a peel and stick away with Wall Pops NuWallpaper!