Revamp Your Space with Captivating Peel and Stick Wallpaper - Discover Striking Large Print Designs!
Introduction to Peel and Stick Wallpaper
Are you ready to transform your living space without the hassle and commitment of traditional wallpaper? Then explore the world of Peel and Stick Wallpaper. This revolutionary product is quickly gaining popularity among homeowners who value convenience, flexibility, and style - all in one package.
What is Peel and Stick Wallpaper?
Peel and Stick Wallpaper, also known as removable or temporary wallpaper, is a type of self-adhesive wall covering. Unlike conventional wallpaper that requires paste and professional installation, Peel and Stick Wallpaper is designed for easy application. You simply peel off the backing and stick the wallpaper onto your desired surface - be it a wall, furniture, or even appliances. It's the perfect solution for those who enjoy frequent changes in their home decor or living in rental properties where permanent alterations are not allowed.
Why Choose Peel and Stick Wallpaper?
Choosing Peel and Stick Wallpaper is a smart move for several reasons. First, it's a time-saver. You won't need to deal with messy adhesives or wait for them to dry. The installation process is straightforward, and you can do it yourself without any special tools or skills.
Second, it's cost-effective. You won't need to hire professional installers, which can add significantly to your decorating budget. You can also avoid the extra costs of removing old wallpaper or repainting your walls.
Third, it's versatile. Peel and Stick Wallpaper comes in a wide array of designs, patterns, and colors. You can find everything from sophisticated geometric patterns to whimsical floral prints. This means you can easily match it to your existing decor, or create a completely new look.
Finally, it's removable. If you decide you want a change, or if you're moving out, you can easily peel off the wallpaper without damaging the wall underneath or leaving any sticky residue.
Now that you understand what Peel and Stick Wallpaper is and why it's a great choice, let's delve into the exciting world of large print designs, and how they can make a stunning impact in your home.
The Benefits of Large Print Peel and Stick Wallpaper
Looking to make a lasting impression with your home décor? Large print peel and stick wallpaper can make that happen in a snap. This wallpaper trend is rapidly gaining popularity due to its ability to make a strong visual impact, its versatility, and the convenience it offers.
Making a Bold Statement with Large Print Designs
Large print designs are known for their ability to make a bold statement in any room. With striking patterns and vibrant colors, they can instantly transform a dull space into an eye-catching masterpiece. Whether you're going for a modern, abstract look, or a more traditional, vintage feel, large print wallpapers from ONDECOR have got you covered. The beauty of these large prints is that they can make your walls the focal point of the room, adding depth and character to your space.
Versatility of Large Print Wallpaper
One of the significant advantages of large print wallpaper is its versatility. It's not restricted to one specific room or style. You can use it in your living room for a dramatic effect, in your bedroom for a cozy vibe, or even in your small bathroom to create an illusion of space. Large print designs can also work well in both contemporary and traditional settings, making them an excellent choice for any home aesthetic.
The variety of large print designs available on ONDECOR, from abstract to floral, and architectural to vintage, means you can find the perfect fit for your style and space. Whether you want to cover an entire wall or just create an accent wall, large print peel and stick wallpaper provides a multitude of design possibilities.
Ease of Application and Removal
The real game-changer with peel and stick wallpaper is the ease of application and removal. No need for professional installers or messy glue. Simply peel off the backing and stick the wallpaper directly onto the wall. If you make a mistake, you can easily reposition the paper until you get it just right.
What about when you want to change your wall décor? No problem. With peel and stick wallpaper, removal is a breeze. Just peel it off, and you're ready to refresh your walls with a new look. This feature makes it a great option for those who love changing their home décor frequently or for renters who need a temporary yet stylish solution.
Embrace the power of large print peel and stick wallpaper to transform your space into a stunning reflection of your personal style. With a little creativity and this innovative product, every wall in your home can become a canvas for your design dreams.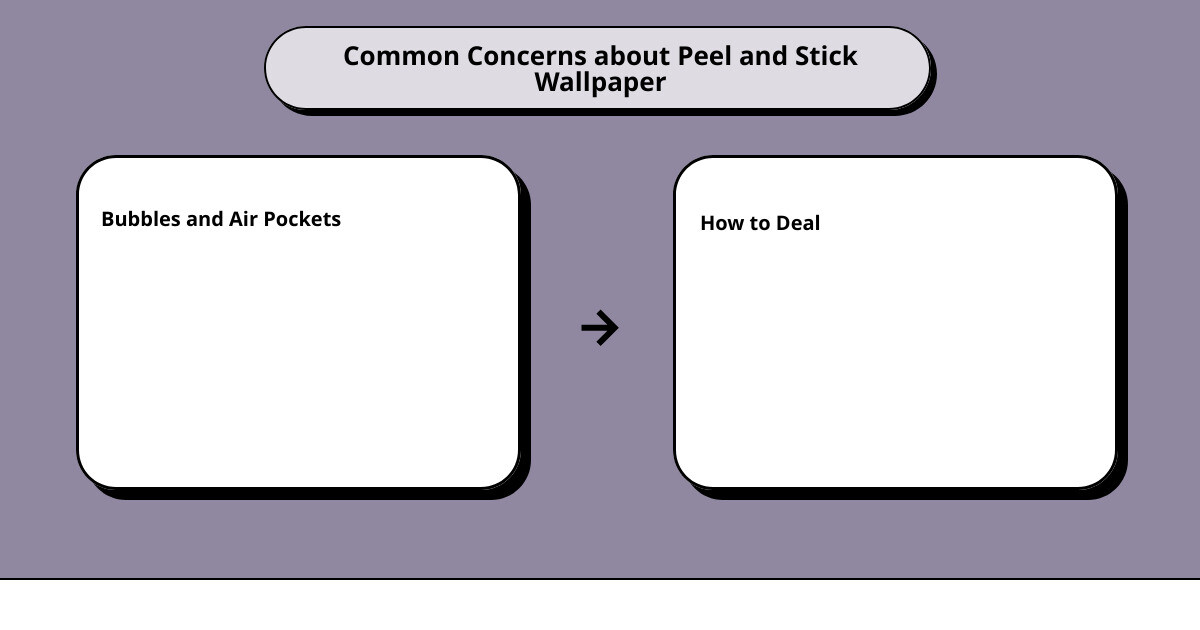 Addressing Common Concerns about Peel and Stick Wallpaper
While the advantages of peel and stick wallpaper are numerous, there are a few concerns that users often encounter. Fear not! We're here to provide solutions to these common issues, ensuring your wallpaper installation process is as smooth as possible.
How to Deal with Bubbles and Air Pockets
Encountering bubbles and air pockets during the application process is a common concern among peel and stick wallpaper users. However, these are easily addressable with a little patience and the right technique.
When applying the wallpaper, start from the top of the wall and smooth the paper out as you go down. If you notice a bubble, simply lift the wallpaper, smooth out the area, and reapply. Using a flat tool like a credit card can help to press out any remaining air pockets and ensure a smooth application.
It's also important to note that quality plays a role in this process. High-quality peel and stick wallpapers, like those from ONDECOR, are designed to be repositionable and have a robust adhesive that reduces the likelihood of bubbles and air pockets.
How to Remove Peel and Stick Wallpaper without Leaving Residue
Another concern is the removal of peel and stick wallpapers. While these are designed to be easily removable, sometimes residue can be left behind. This is typically due to the condition of the wall before the wallpaper was applied, rather than the wallpaper itself.
To ensure a clean removal, it's important to prepare your walls properly before application. This includes cleaning them thoroughly and ensuring they are smooth and dry.
If you do encounter residue upon removal, don't panic! A simple solution of warm water and mild soap applied with a soft sponge should do the trick. Rinse the wall with clean water afterwards and dry it thoroughly to ensure no moisture remains.
Remember, peel and stick wallpapers offer a unique opportunity to change up your space whenever you want, without the stress of traditional wallpaper removal. So, get creative, have fun, and transform your space with the diverse range of large print peel and stick wallpaper designs available at ONDECOR.
Understanding the Dimensions of Peel and Stick Wallpaper
It's essential to know how much wallpaper you'll need before you dive into your home decor project. Understanding the dimensions of peel and stick wallpaper can save you from buying too much or too little, ensuring a smooth and cost-effective application process.
How Many Square Feet Does a Roll of Peel and Stick Wallpaper Cover?
When it comes to the coverage of a roll of peel and stick wallpaper, the standard dimensions for most brands, including ONDECOR, is 28.18 square feet. However, depending on the design and material, this can slightly vary. It's always a good idea to check the product details for accurate measurements.
ONDECOR provides a helpful guide to determine how many rolls you might need based on your wall width. For example, a wall width of up to 24" would require just one roll, while a larger wall width of 121" - 144" would need six rolls. This guide can be a lifesaver when planning out your wallpaper needs.
How Wide is a Roll of Peel and Stick Wallpaper?
The width of a roll of peel and stick wallpaper can vary, but a common width is 20.8 inches. For instance, ONDECOR's high-quality, extra-thick, non-woven peel and stick wallpapers come in rolls that are 20.8 inches wide and 393 inches long, covering a total of 57 square feet.
Understanding these dimensions can help you estimate the number of rolls you'll need for your project, and can also guide you in cutting and positioning your wallpaper. Always keep in mind that measurements may vary based on the product and brand, so always check the specifics of your chosen wallpaper.
In summary, knowing your wallpaper dimensions is a key step in the planning process. Whether you're going for a large print wallpaper to create a bold statement or a more subdued design, ONDECOR provides a wide variety of high-quality, easy-to-apply, peel and stick wallpapers to satisfy your aesthetic needs.
Top Large Print Peel and Stick Wallpaper Designs from ONDECOR
So, you're ready to bring your walls to life! The magic lies in choosing the right design that perfectly suits your style and space. Whether you're passionate about abstract art, love the freshness of floral prints, admire the grandeur of architectural designs, or appreciate the timeless charm of vintage patterns, ONDECOR has got you covered. Let's explore some of the top large print peel and stick wallpaper designs that we offer.
Abstract Large Print Wallpaper
Imagine having a piece of modern art right on your walls! Our abstract large print wallpaper presents an artistic blend of shapes, lines, and colors, creating a visually exciting look. Each design is unique and offers an innovative way to add interest to your space. With a variety of bold and muted colorways, you can choose the perfect abstract wallpaper that complements your existing décor and personal style.
Floral Large Print Wallpaper
If you're a nature enthusiast, our floral large print wallpaper collection is just for you. From whimsical dandelion designs to the oversized Hydrangea print from our Rifle Paper Co. collection, these wallpapers bring the beauty of the outdoors into your home. They offer a refreshing touch to any room, infusing it with a vibrant, lively ambiance that's sure to impress.
Architectural Large Print Wallpaper
For those who appreciate the beauty of buildings and structures, we present our architectural large print wallpaper. These designs capture the essence of various architectural styles, from classic Art Deco motifs to contemporary geometric patterns. They add a sophisticated touch to your space, creating a visually stunning backdrop that speaks volumes about your refined taste.
Vintage Large Print Wallpaper
If you're looking to create a nostalgic, cozy vibe in your space, our vintage large print wallpaper is an excellent choice. These designs incorporate elements from past eras, offering a charming blend of old-world elegance and modern sensibility. Whether it's a retro floral pattern or an antique-inspired damask design, these wallpapers add a timeless appeal to your interiors.
No matter your décor preferences, ONDECOR offers a diverse array of large print peel and stick wallpapers to help you create the perfect atmosphere in your home. Stay tuned for the next section where we'll explore why ONDECOR should be your go-to source for all your wallpaper needs.
Why Choose ONDECOR for Your Peel and Stick Wallpaper Needs
Creating an inspiring space is about more than just aesthetics. It's about choosing products that align with your values and lifestyle. That's where ONDECOR excels. With our focus on quality, eco-friendliness, and customer service, we're a leader in large print peel and stick wallpapers.
High-Quality, Eco-Friendly and Non-Toxic Wallpapers
At ONDECOR, we're committed to sustainability and safety. We offer high-quality wallpapers printed on EcoDeco material, an eco-friendly polymer compound that contains no harmful components. This material is not only safe for your home but also for the environment. These wallpapers look like traditional vinyl wallpaper, but they're produced in a more responsible way, aligning with our commitment to eco-conscious practices.
Wide Range of Styles and Designs
With over 300,000 wallpapers sold and an extensive range of styles and designs, ONDECOR is the one-stop-shop for your wallpaper needs. From vibrant florals that add a touch of nature, to bold abstract designs that make a statement, we offer a diverse array of large print peel and stick wallpapers. Whether you're looking for something modern, vintage, or somewhere in between, we have you covered. Our wallpapers are designed to cater to various tastes and room themes, making it easy for you to find the perfect design for your space.
Excellent Customer Service and Worldwide Shipping
Our commitment to customer satisfaction goes beyond providing high-quality products. We offer professional consultation and installation, ensuring that your wallpaper application process is smooth and hassle-free. With over 48,562+ satisfied customers and more than 15,838+ reviews, we pride ourselves on our excellent customer service. And no matter where you are in the world, we can get our wallpapers to you with our worldwide shipping services.
In conclusion, when it comes to peel and stick wallpaper, ONDECOR is a trusted choice for homeowners. We offer eco-friendly, high-quality wallpapers in a wide range of designs, coupled with excellent customer service and worldwide shipping. Transform your space today with ONDECOR's large print peel and stick wallpapers.
Conclusion: Transform Your Space with Large Print Peel and Stick Wallpaper
Are you ready to elevate your living space with minimal effort? Look no further than large print peel and stick wallpapers from ONDECOR. You have now discovered the versatility, ease of application, and the striking designs that large print wallpapers offer. With a broad assortment of patterns ranging from abstract and floral to architectural and vintage, you can express your unique style and transform any room into a vibrant and inviting space.
Whether you're looking to make a bold statement in your living room, add a calming ambiance to your bedroom, or inject some creativity into your child's room, large print peel and stick wallpapers provide an instant uplift. The beauty of these wallpapers lies not only in their aesthetic appeal but also in their practicality. They're easy to apply, remove, and reposition, making them a perfect choice for renters or anyone looking to frequently update their decor.
With ONDECOR, you're investing in more than just wallpaper. You're investing in high-quality, eco-friendly products that are safe for your home and the environment. But beyond that, you're investing in a hassle-free shopping experience with our excellent customer service and convenient worldwide shipping services.
So why wait? Start your home transformation journey today with large print peel and stick wallpaper. Explore the diverse range of large print designs available at ONDECOR and discover the perfect fit for your space. And remember, with peel and stick wallpaper, you're not just decorating your walls; you're creating a home that truly reflects who you are.
ONDECOR is ready to help you transform your space and bring your design visions to life. So go ahead, peel, stick, and let your walls tell your story!