Discover the Striking Designs of NextWall Wallpaper: Elevate Your Space with Unmatched Style
Introduction to NextWall Wallpaper
Dive into the world of mesmerizing wall decor with NextWall Wallpaper. When it comes to transforming your living space, every detail matters, and nothing adds character and style quite like the right wallpaper. As a busy homeowner, you want options that are not just aesthetically pleasing but also easy to handle, environmentally friendly, and versatile enough to cater to your ever-evolving decor preferences. NextWall Wallpaper ticks all these boxes and more.
NextWall, a brand known for its innovative designs and high-quality wallpapers, offers a stunning range of patterns and colors to suit any style. Whether you're looking for a modern geometric pattern to spruce up your home office, a tranquil floral print for the bedroom, or an edgy brick design for a loft-style living room, NextWall has got you covered.
Yet, NextWall Wallpaper is more than just a pretty face. Its unique peel and stick format makes it a dream come true for DIY lovers and busy homeowners alike. The wallpapers are not only easy to apply but also simple to remove, saving you both time and potential damage to your walls.
In the following sections, we will delve deeper into the standout features of NextWall Wallpaper and why it's the ideal choice for your next home decor project. Prepare to elevate your space with unmatched style.
The Unique Features of NextWall Wallpaper
Transforming your space has never been easier. With NextWall Wallpaper, you can effortlessly bring a fresh, dynamic look to any room in your home. This isn't your average wallpaper – it's a game changer. Its unique features set it apart from the rest, making it a top choice for discerning homeowners. Let's explore these features in detail.
Easy Application and Removal
One of the stand-out features of NextWall Wallpaper is its easy application and removal. These wallpapers come with a peel-and-stick design, eliminating the need for messy glues and professional installers. Whether you're a seasoned DIY enthusiast or a beginner, you'll appreciate the simplicity and convenience of these wallpapers. Not only that, but when it's time for a change, NextWall wallpapers can be easily removed without damaging your walls or leaving behind sticky residue.
Variety of Designs and Patterns
Next, let's talk about the variety of designs and patterns offered by NextWall. From the elegant Acanthus Floral design to the bold Starburst Geo Mid Century pattern, there's something for every taste and style. Perhaps you're seeking a coastal vibe with a Palm Silhouette design or a rustic touch with a Washed Faux Brick pattern. NextWall has you covered. You can also choose from a range of styles including aesthetic, animals, architectural, art deco, and many more. The possibilities are truly endless!
Safe and Eco-friendly
In today's world, we all aim to make choices that are both safe for our homes and kind to the environment. That's where NextWall shines. These wallpapers are made from safe and eco-friendly materials. They are designed to be durable and long-lasting, reducing the need for frequent replacements and contributing to less waste.
Versatility in Use
Finally, one of the most compelling aspects of NextWall Wallpaper is its versatility in use. Not confined to just walls, these wallpapers can be used to spruce up a variety of surfaces in your home. Think cabinets, stair risers, bookshelves, drawers, and much more. With NextWall, you're not just buying wallpaper, you're investing in a tool that can transform your entire home.
In conclusion, the unique features of NextWall Wallpaper – its easy application and removal, the wide variety of designs and patterns, its eco-friendly nature, and its versatile use – make it an excellent choice for any homeowner looking to elevate their living spaces. Don't just decorate, transform your space with NextWall Wallpaper.
Applying NextWall Peel and Stick Wallpaper is a do-it-yourself task that you can complete in a short amount of time. The process doesn't require any professional help and the transformation it brings to your space is absolutely stunning.
Preparing the Wall
Before you start applying your NextWall Wallpaper, it's crucial to ensure that the wall is properly prepared. The wall should be clean, dry, and smooth. If there are any nails or screws on the wall, remove them. Fill any holes or cracks with a suitable filler and allow it to dry completely. Also, it's recommended to apply the wallpaper on a painted wall rather than directly on drywall, as the wallpaper could pull some paint off when removed.
Applying the Wallpaper
Once the wall is prepared, the actual application of the NextWall peel and stick wallpaper is quite straightforward. Start by peeling about 12 inches of the backing away from the paper. Apply the paper to the top of the wall, allowing 1-2 extra inches to overlap the ceiling which will be trimmed off later. Align the right side of the strip with your vertical line and lightly press the edge to the wall along the line.
Ensure that the wallpaper is applied straight and smooth to prevent bubbles and air pockets. If you make a mistake, don't worry! One of the fantastic features of NextWall Wallpaper is that it's repositionable. Simply peel it off gently and reapply until you get it right.
Tips for a Smooth Application
For a seamless wallpaper application, follow these handy tips. First, ensure you have enough wallpaper rolls before you start. It's better to have some extra than to run out mid-project. Second, consider the pattern of the wallpaper. Wallpapers with a random match are the easiest to install because the strips will always line up when placed together. Lastly, be patient and take your time. Hurrying the process could lead to errors and a less-than-perfect finish.
Applying NextWall Peel and Stick Wallpaper is an easy and efficient way to dramatically transform your space. With a little time and patience, you can turn any room in your house into a stylish and modern haven. Don't just decorate, transform your space with NextWall Wallpaper.
Comparing NextWall Wallpaper to Other Brands
When it comes to investing in home decor, it's essential to make informed choices. This is especially true for wallpapers, where quality and style can significantly influence the overall aesthetic of your space. Let's see how NextWall Wallpaper stands out in comparison to other brands in terms of quality, design and value.
Quality and Durability
NextWall Wallpaper offers a unique combination of quality and durability that is unmatched by many other brands. It uses a peel and stick application method that makes it easy to apply and remove without damaging the walls. The wallpapers are made from high-quality vinyl, ensuring they are robust and long-lasting. The thickness of the material also helps in covering any wall imperfections, something not all wallpaper brands can claim.
Design and Style
When it comes to design and style, NextWall Wallpaper surpasses the competition with its wide variety of patterns and colors. From modern and minimalist to vintage and romantic, bold and eclectic, and even coastal and nautical, NextWall has something for everyone. Whether you're looking for a subtle geometric pattern or a bold floral print, you can find it with NextWall. The range of designs caters to different tastes and styles, making it easier for homeowners to find something that aligns with their aesthetic preferences.
Price and Value
NextWall Wallpaper offers exceptional value for money. Given the high-quality materials used, the ease of application and removal, and the extensive range of designs available, the prices are competitive. The durability of the wallpapers also means that they are a long-term investment for your home, providing excellent value for money over time.
In conclusion, compared to other brands, NextWall Wallpaper strikes an impressive balance between quality, design, and value. Offering a wide range of styles and easy installation, it stands out as a smart choice for homeowners seeking to add a touch of sophistication to their living spaces.
Finding the perfect wallpaper to create a stylish backdrop for your home can feel like searching for a needle in a haystack. But once you've discovered the striking designs and unmatched style of NextWall Wallpaper, the next question is: where can you buy it? Let's delve into the best places to purchase this transformative home decor product.
Online Retailers
In today's digital age, online shopping is the go-to option for many busy homeowners. It offers the convenience of exploring a wide variety of designs and patterns from the comfort of your couch. Whether you're looking for a chic floral pattern to brighten your living room or a faux brick design to give your kitchen a rustic feel, you'll find it all on Amazon.com, a leading online retailer stocking a comprehensive range of NextWall Wallpaper.
Explore the latest collections from NextWall, such as the Harry & Grace, Daisy Bennett Designs, and the Lillian August Luxe Haven Collection. You can take advantage of customer reviews, detailed product descriptions, and high-resolution images to ensure you make the right choice for your space. Plus, with Amazon's easy return policy, you can shop with confidence.
Physical Stores
While online shopping offers convenience, there's something to be said about the tactile experience of visiting a physical store. You can touch and feel the quality of the wallpaper, and get a real sense of how the colors and patterns will look in your space.
Homeowners who enjoy this hands-on shopping experience can find NextWall Wallpaper at Home Depot. With stores located nationwide, you can head over to your nearest outlet and browse through their wide selection of NextWall designs. From botanical prints to geometric patterns, you can find a wallpaper that matches your home's aesthetic.
Remember, whether you choose to shop online or in-store, it's essential to measure your walls accurately before purchasing. This ensures you buy the right amount of wallpaper to cover your desired area, without unnecessary waste or shortfall.
With NextWall Wallpaper readily available through both online and physical retailers, transforming your living space into a stylish sanctuary has never been easier.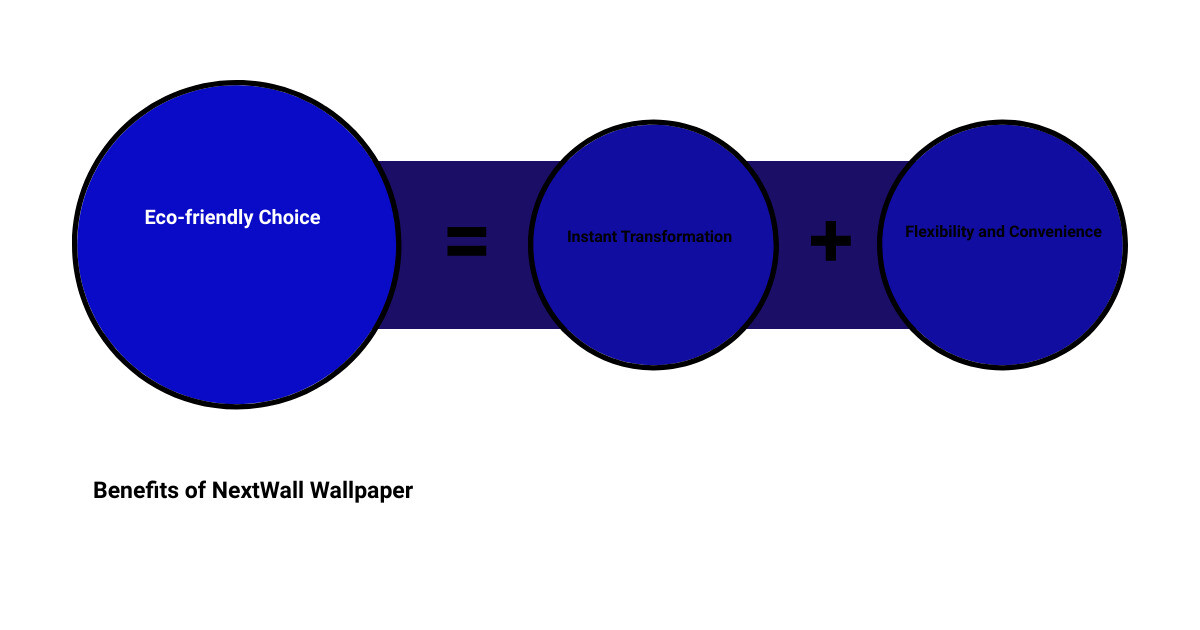 The Benefits of Choosing NextWall Wallpaper for Your Space
Choosing wallpaper for your home isn't just about aesthetics; it's about choosing a product that aligns with your lifestyle, values, and personal taste. NextWall Wallpaper offers a host of benefits that make it a top choice for homeowners seeking to elevate their living spaces.
Instant Transformation
One of the most compelling reasons to choose NextWall Wallpaper is the instant transformation it brings to any room. With its extensive range of striking designs, from the bold and vibrant to the subtly elegant, you can instantly inject personality and style into your space. Whether you opt for the metallic gold & gray Lotus Floral design or decide on the rustic charm of the Washed Faux Brick wallpaper, you can effortlessly set the mood and define the character of your room without the need for extensive renovations.
Flexibility and Convenience
NextWall Wallpaper is not only about style; it's also about flexibility and convenience. Their peel and stick wallpapers are designed for easy application and removal. This means you can regularly update your decor to keep up with the latest trends, or simply when you want a change, without the hassle associated with traditional wallpaper or paint. The convenience extends to the variety of spaces where the wallpaper can be used, from living rooms to bedrooms, and even in bathrooms, thanks to its moisture-resistant properties.
Eco-friendly Choice
In an era where sustainability is a necessity, choosing eco-friendly products for your home is more important than ever. As highlighted in ONDECOR's guide to choosing eco-friendly wallpaper, it's important to make conscious choices that favor the environment. NextWall Wallpaper aligns with this ethos, offering wallpapers that are safe for both your home and the environment. By choosing NextWall, you're not only enhancing your living space but also contributing to a healthier planet.
In summary, the benefits of choosing NextWall Wallpaper are clear. From the instant transformation it offers, the flexibility and convenience it brings, to the eco-friendly choice it represents, NextWall Wallpaper is the perfect solution for those looking to elevate their living spaces with unmatched style.
Conclusion: Elevate Your Space with NextWall Wallpaper
When it comes to redefining your living space, NextWall Wallpaper stands out as the ideal choice for the discerning homeowner. With its remarkable features, stunning designs, and ease of use, this brand provides a quick and effective solution to spruce up any room, whether it's a cozy bedroom, a lively kitchen, or a professional home office.
NextWall Wallpaper offers an impressive variety of patterns that ranges from modern mural designs to classic motifs. As a result, you can choose a style that perfectly matches your aesthetic, encapsulates your personality, and complements your existing decor. Moreover, with their peel-and-stick feature, you can conveniently change the look of your room as often as you like, making it a flexible and versatile choice.
Aside from their aesthetic appeal, NextWall wallpapers are also a safe and eco-friendly choice. They are made from high-quality materials that are safe for your home and the environment, adding to their appeal.
Furthermore, the easy installation process ensures that you can transform your space in no time, without the need for professional help. This feature makes it a cost-effective choice, as it eliminates the need for additional installation charges.
When compared to other brands, NextWall Wallpaper emerges as a front-runner in terms of quality, durability, design, style, and value for money. It is available at a range of price points, making it accessible for a wide audience.
Shopping for NextWall Wallpaper is a breeze as it is available across various online retailers, including Amazon and ONDECOR, as well as in physical stores. This accessibility, combined with the brand's reputation for excellent customer service, makes it a preferred choice among homeowners.
In conclusion, choosing NextWall Wallpaper for your space is more than just a decor decision. It's an investment in style, convenience, and sustainability. So why wait? Elevate your space with unmatched style and transform your home with NextWall Wallpaper today.